Father's Day is here once again and so we here at The Matthew Aaron Show would like to offer our listeners some recommendations of films & TV shows we believe dad would like to receive this year. Whether he is a fan of action, comedy, fantasy or drama you are sure to find something he will love.
We've also expanded our recommendations to include a companies that are near and dear to our hearts.
---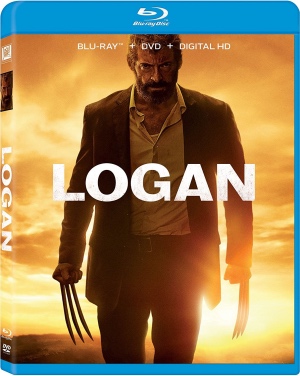 Twentieth Century Fox Home Entertainment brings Hugh Jackman's celebrated seventeen-year run as Wolverine to a close when the box office phenomenon Logan. Sir Patrick Stewart (X-Men: Days of Future Past, Star Trek: The Next Generation), Stephen Merchant (Hello Ladies, The Office), Boyd Holbrook (Narcos) and newcomer Dafne Keen join Jackman in the iconic character's final chapter, directed by James Mangold (The Wolverine, Walk the Line).
Touting an R-rating, allowing fans to finally see Logan's legendary berserk rage unleashed, Mangold brings a visceral and gritty realism to the story, based on one of Marvel Comics' most popular characters. In the near future, a weary Logan (Hugh Jackman) cares for an ailing Professor X (Patrick Stewart) in a hideout on the Mexican border. But Logan's attempts to hide from the world and his legacy are upended when a young mutant (Dafne Keen) arrives, being pursued by dark forces.
In addition to nearly 90 minutes of original content, including deleted scenes and a behind-the-scenes documentary, the Blu-ray will also include Logan Noir, a black and white version of the film that gives the acclaimed story an all-new look.
---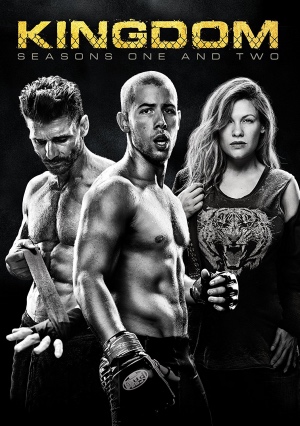 As seen on AT&T's Audience Network, the hit series centers on a family of fighters against the backdrop of their Mixed Martial Arts gym. This 9-disc DVD set includes all 30 episodes from the first two hard-hitting seasons for fans to catch up ahead of the show's upcoming third season.
Frank Grillo (Captain America: The Winter Soldier) stars in this gritty drama as former pro fighter Alvey Kulina, who, along with his girlfriend, Lisa (Kiele Sanchez, The Purge: Anachy), runs a Mixed Martial Arts gym in Venice, California. Tensions mount when Alvey's estranged ex-wife, Christina (Joanna Going), stops being estranged. Meanwhile, Lisa's ex-fiancé, Ryan (Matt Lauria), returns from prison to resurrect his fighting career – with Alvey as his trainer. And although Alvey and Christina's sons, Jay (Jonathan Tucker) and Nate (Nick Jonas), show promise as fighters, each contends with demons and secrets of his own.
With its hard-hitting action and great storyline, Kingdom is rock-solid entertainment!
---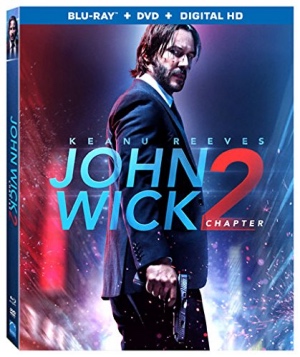 John Wick: Chapter 2, the highly anticipated, hard-hitting second installment in the thrilling John Wick saga. Keanu Reeves (The Matrix franchise) returns with director Chad Stahelski (John Wick) and writer Derek Kolstad (John Wick) in this globe-trotting, action-packed thriller. Reeves stars alongside an all-star cast including Bridget Moynahan (TV's "Blue Bloods"), Ian McShane (TV's upcoming "American Gods"), John Leguizamo (American Ultra), Common (Selma), Peter Stormare (TV's upcoming "American Gods"), and, reuniting with Reeves for the first time since The Matrix films, Laurence Fishburne (TV's "Hannibal").
Legendary hit man John Wick is forced out of retirement again by a former associate plotting to seize control of a shadowy international assassins' guild. Bound by a blood oath to help him, John travels to Rome, where he squares off against some of the world's deadliest killers.
The 4K Ultra HD, Blu-ray, and Digital HD releases feature over three hours of extensive bonus material including feature-length audio commentary with Keanu Reeves and director Chad Stahelski, three deleted scenes, nine featurettes, the official John Wick "Kill Count" video, and the Dog Wick short. Featurettes include "RetroWick: Exploring the Unexpected Success of John Wick," featuring the cast discussing the success of the first film; "Training John Wick," showing Keanu Reeves and Common training with guns, cars, and hand-to-hand combat; "Wick-vizzed," which looks at the blueprint "pre-viz" of John Wick's action beats; "As Above, so Below: The Underworld of John Wick," exploring the assassin's underworld in the movie; "Friends, Confidantes: The Keanu/Chad Partnership," delving into the long-standing relationship between Keanu Reeves and one-time stunt coordinator – and now director – Chad Stahelski; "Car Fu Ride-Along," where fans can experience a true ride-along with Keanu Reeves and the stunt driver; "Chamber Deck: Evolution of a Fight Scene," breaking down one of the fight sequences from concept to screen; and "Wick's Toolbox," looking into John Wick's bag of tricks. The 4K Ultra HD and Blu-ray versions will also feature Dolby Atmos audio remixed specifically for the home-theater environment, to place and move audio anywhere in the room, including overhead.
---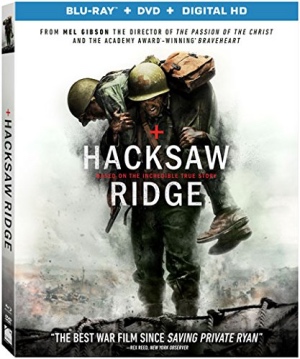 Based in the incredible true story of one man's faith, strength and courage during one of the bloodiest battles of WWII. From Academy Award-winning director Mel Gibson (Best Picture, Braveheart, 1995), with screenplay by Robert Schenkkan (The Quiet American) and Andrew Knight (The Water Diviner), Hacksaw Ridge features breathtaking visual effects and stunning production design and has been nominated for three Golden Globes: Best Picture – Drama, Best Director – Motion Picture, and Best Actor – Motion Picture for Andrew Garfield. Garfield (The Amazing Spider-man) gives a moving performance as American hero Desmond Doss, alongside an all-star cast, including Sam Worthington (Avatar), Luke Bracey (Point Break), Teresa Palmer (Warm Bodies), Hugo Weaving (The Lord of the Rings franchise), Rachel Griffiths (Saving Mr. Banks), and Vince Vaughn (HBO's "True Detective").
Hacksaw Ridge is the extraordinary true story of Desmond Doss (Andrew Garfield) who, in Okinawa during the bloodiest battle of WWII, saved 75 men without firing or carrying a gun. He was the only American soldier in WWII to fight on the front lines without a weapon, as he believed that while the war was justified, killing was nevertheless wrong. As an army medic, he single-handedly evacuated the wounded from behind enemy lines, braved fire while tending to soldiers, was wounded by a grenade, and hit by snipers. Doss was the first conscientious objector to ever earn the Congressional Medal of Honor.
The 4K Ultra HD, Blu-ray and Digital HD releases feature an in-depth, behind-the-scenes look at the film in "The Soul of War: Making Hacksaw Ridge," a comprehensive documentary detailing the making of the film, including the real-life people and story, casting, filming, special effects and stunts with interviews from Mel Gibson, Andrew Garfield and others. In addition, the release will contain deleted scenes and a special Veterans Day Greeting from Mel Gibson.
---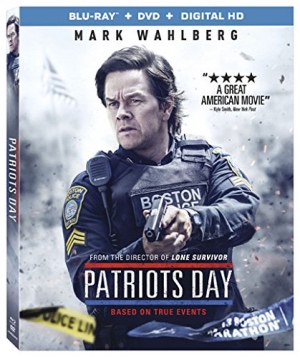 Witness the heroism behind one of the most sophisticated manhunts in law enforcement history in the critically acclaimed film Patriots Day.
Director Peter Berg (Lone Survivor, Deepwater Horizon) and Academy Award nominee Mark Wahlberg (Best Supporting Actor, The Departed, 2006) reunite in this intense and courageous story of a tragedy that shocked the nation. Patriots Day is Certified Fresh on Rotten Tomatoes, with critics raving that it is a moving tribute that "showcases the bravery and heart of everyday heroes" (IGN.com) and features an all-star cast including Golden Globe® winner Kevin Bacon (Mystic River), Golden Globe winner John Goodman (Argo), Academy Award winner J.K. Simmons (Best Supporting Actor, Whiplash, 2014) and Golden Globe® nominee Michelle Monaghan (TV's "True Detective"). Story by Peter Berg & Matt Cook and Paul Tamasy & Eric Johnson. Screenplay by Peter Berg & Matt Cook and Joshua Zetumer.
Based upon the dramatic real-life manhunt for the Boston Marathon bombers, this powerful action-thriller follows Police Sergeant Tommy Saunders (Mark Wahlberg) as he joins brave survivors, first responders, and investigators in a race against time to find the bombers before they strike again. Directed by Peter Berg and featuring a stellar cast, Patriots Day is a stirring tribute to the Boston community's strength and courage in the face of adversity.
The Patriots Day 4K Ultra HD, Blu-ray, and Digital HD releases have over 90 minutes of bonus material including five behind-the-scenes featurettes: "Boston Strong: True Stories of Courage" tells the true stories of three first responders, "The Boston Bond: Recounting the Tale" reveals, through the eyes of the cast and crew, how a city that was challenged by tragedy rose above it to thrive; "The Real Patriots: The Local Heroes' Stories" highlighting the real heroes from the marathon bombing; "The Cast Remembers," featuring Mark Wahlberg and the cast discussing what drew them to the film; "Researching the Day," showing how Peter Berg worked with an FBI technical advisor and researcher to tell this story as accurately as possible, as well as a two-part series showing the actors meeting their real-life counterparts.
---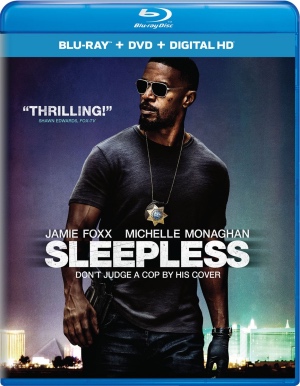 Jamie Foxx (Django Unchained, White House Down) stars as an undercover homicide detective seeking revenge on his son's kidnappers in the must-see action film Sleepless.
Sleepless also stars Golden Globe nominee Michelle Monaghan (Patriot's Day, "True Detective"), Gabrielle Union (Almost Christmas, The Birth of a Nation), Grammy Award winner T.I. (Ant-Man, Popstar: Never Stop Never Stopping), Dermot Mulroney (August: Osage County, My Best Friend's Wedding), David Harbour ("Stranger Things", Suicide Squad) and Scoot McNairy (12 Years a Slave, Argo).
The Blu-ray™ and DVD delve even deeper into the intense story with bonus features including deleted scenes and a special behind-the-scenes featurette.
Undercover police officer Vincent Downs (Foxx) thrives in the high stakes web of corrupt cops and the mob-controlled casino underground of Las Vegas. But when a heist goes wrong and a crew of homicidal gangsters kidnaps Downs' teenage son, he must evade an internal affairs investigation, rescue his son, and bring the kidnappers to justice all in one sleepless, pulse-pounding night.
---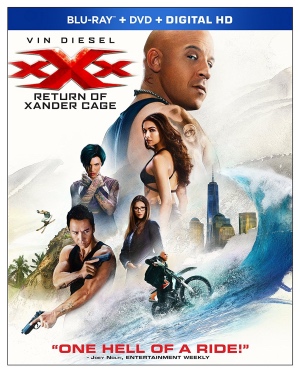 When a group of lethal mercenaries steal a hi-tech weapon that poses a global threat, the world needs superspy Xander Cage (Vin Diesel). Recruited back into action, Xander leads a team of death-defying adrenaline junkies on a mission to kick some ass, save the day, and look dope while doing it. Packed with some of the most mind-blowing stunts ever caught on film, xXx: RETURN OF XANDER CAGE features a powerhouse international cast including Donnie Yen (Rogue One: A Star Wars Story), Deepika Padukone, Kris Wu, Ruby Rose (John Wick: Chapter 2), Tony Jaa (Furious 7), Nina Dobrev (TV's "The Vampire Diaries"), and Samuel L. Jackson (Kong: Skull Island).
The xXx: RETURN OF XANDER CAGE 4K Ultra HD and Blu-ray Combo Packs are loaded with over an hour of action-packed special features, including in-depth interviews with the all-star cast, plus a behind-the-scenes look at the film's incredible stunts, locations and much more.
---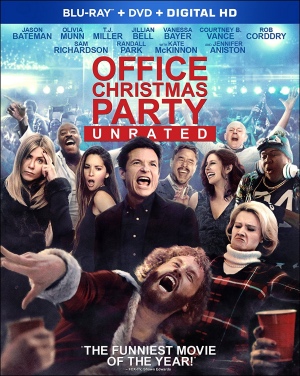 Party like your job depends on it when the "hilarious"
(Neil Genzlinger, New York Times) and "raucous" (Frank Lovece, Film Journal) OFFICE CHRISTMAS PARTY.
When an overbearing CEO (Jennifer Aniston) decides to close her hard-partying brother's failing branch, he (T.J. Miller) and his fired up co-workers (Jason Bateman, Olivia Munn, Kate McKinnon) decide to throw an epic office party to land a big shot client and save everyone's jobs. Fueled by booze and bad decisions, things quickly spiral out-of-control in one of the craziest nights of their lives. OFFICE CHRISTMAS PARTY features an incredible supporting cast of comedic talent including Rob Corddry (Hot Tub Time Machine), Jillian Bell (Fist Fight), Vanessa Bayer ("Saturday Night Live"), Fortune Feimster ("The Mindy Project") and Courtney B. Vance ("The People v. O.J. Simpson: American Crime Story").
The OFFICE CHRISTMAS PARTY Blu-ray Combo Pack features both the theatrical and unrated version of the film, which includes outrageous footage not seen in theaters. In addition, the Blu-ray Combo Pack boasts hilarious outtakes, deleted and extended scenes, commentary by directors Josh Gordon and Will Speck and more.
---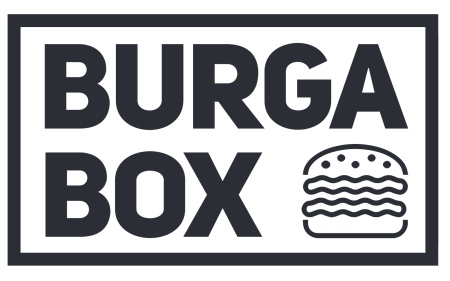 Burgabox.com is a meal delivery kit that ships all the ingredients you need, with instructions, to make the best burgers of the planet from your own casa!
Producer Pat says: BurgaBox is fantastic! They ship you everything you need to make a killer meal, we've been lucky enough to try it and highly recommend it! They have plenty of varieties to choose from and even have a gluten free option.
Head over to their website and place an order or sign up for the BurgaBox of the Month Club and get a new shipment every month.
If you're not sure of what Dad might like simply get him a BurgaBox Gift Card in amounts up to $100. Your dad will thank you, trust us.
---

GameStop is a family of specialty retail brands that makes the most popular technologies affordable and simple. The are a global retailer of multichannel video game, pop culture collectibles, consumer electronics and wireless services, operating more than 7,500 stores in 14 countries across Europe, Canada, Australia and the United States.
Producer Pat says: Looking for the perfect gift for your gamer Dad? Why not a GameStop Gift Card, you can choose a physical gift card or an e-card in any amount up to $500. Cards can be used online or in the store.
While your at it, check out a few of our favorite picks.
Star Wars Millennium Falcon Multi Tool
Madden NFL 18 G.O.A.T. Edition (Pre-order)
---

AllPosters.com is the world's largest online retailer of wall décor. From classic art prints to the latest music, movie and sports posters, AllPosters.com has broad appeal for people of all ages, income levels, decorating tastes and personal interests.
AllPosters.com is dedicated to bringing customers the best selection of posters and art prints in the world. Our range of hundreds of thousands of posters and art prints, combined with our framing and mounting services and 100% satisfaction guarantee, make it simple and safe for customers to find a selection that is perfect for their home, apartment, or office.
Producer Pat says: I recently revamped my home office and was able to find everything I needed at AllPosters and I have no doubt you will too, whether you're into movies, TV, fancy art, comics, etc. AllPosters has something for everyone.
Gift Cards are available in amounts up to $1000. You can send an all AllPosters eGift card by email or print out a colorful, personalized one to give to your dad in person. It's super quick and easy. I highly recommend.