Created/Hosted by: Matthew Aaron
Executive Produced by: Matthew Aaron, Joe Carnahan & Anthony Giuliano
Produced by: Patrick Tobias
---
LOGLINE
Comedian/Writer Matthew Aaron hosts a meal for celebrities to exchange showbiz stories and experiences at a Hollywood restaurant.
---
SYNOPSIS
Matthew Aaron (Comedian/Writer/Actor and host of the popular and cleverly named Podcast ("The Matthew Aaron Show") brings his brand of ballsy, in-your-face humor and encyclopedic knowledge of films and TV to the small screen as Creator and Host of "Dine and Dash", a unique, independently-financed, multi-camera, unscripted, TV talk show pilot which will give viewers a behind-the-scenes peek at Hollywood and fame through fun and entertaining stories told by some of today's biggest celebrities in an intimate dinner setting.
The pilot features Aaron sitting down to dinner with 5 well-known celebrities at a local LA restaurant and talking about whatever happens to be on their minds--from fame & fortune to love & politics. Whatever the topic, you are sure to be entertained.
Aaron Executive Produces "Dine and Dash" along with Writer/Director Joe Carnahan (The Grey, The A-Team, Smokin' Aces, Narc). Patrick Tobias (who also produces The Matthew Aaron Show) is attached to the project as Producer joined by 21-year TV veteran, Jim McKairnes.
---
Our Guests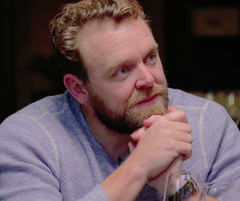 JOE CARNAHAN is an American Screenwriter and Director. He returned to the director's chair in 2012 with the critically acclaimed, box office success "The Grey" starring Liam Neeson. Prior to that he teamed with Neeson on the big screen version of the beloved TV show "The A-Team." The popular cult film "Smokin' Aces" followed his critically acclaimed cop drama "Narc," which premiered at the Sundance Film Festival in 2002 and earned him a Best Director Independent Spirit Award nomination.
His first feature film was "Blood, Guts, Bullets and Octane" for which he wrote, directed, and starred. The film was self-financed and debuted at the Sundance Film Festival in 1998. Carnahan also wrote and directed the innovative short Internet film "The Hire: Ticker," produced by Ridley Scott and starring Clive Owen, Don Cheadle, Ray Liotta, and F. Murray Abraham for BMW in 2002. Carnahan's writing career includes screenplays for "Pride and Glory," a police drama released by Warner Brothers starring Colin Farrell and Edward Norton, as well as adaptations of Mark Bowden's "Killing Pablo" and James Ellroy's "White Jazz," both of which he is set to direct.
Carnahan's latest feature film "Stretch" stars Patrick Wilson, Chris Pine & Jessica Alba and is currently available for rent and purchase on iTunes & VOD.
Joe currently serves as Executive Producer on NBC's "The Blacklist" as well as "State of Affairs."
---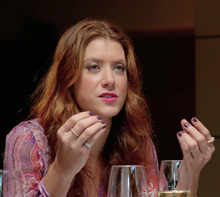 KATE WALSH is widely known for her starring role as Dr. Addison Montgomery on "Private Practice," a spin-off of the hit show "Grey's Anatomy." The enormous success of her character on "Grey's" led writer and creator Shonda Rhimes to create a spin-off based solely on Walsh's character. During her two seasons on "Grey's Anatomy," the show received a SAG Award for best ensemble in 2007. "Grey's" won the Golden Globe for best television drama series in 2007 and the show also received Emmy nominations for outstanding drama series in 2006-07.
Most recently, Walsh co-starred in the TV adaptation of "Fargo," alongside Billy Bob Thornton and Martin Freeman. Her previous small-screen credits include "CSI," "Karen Sisco," "The Mike O'Malley Show," "Mind of a Married Man" and "The Drew Carey Show."
On the film side, Walsh appeared in the Courteney Cox-directed film "Just Before I Go" that recently unspooled at the Tribeca Film Festival. She also recently finished production on two other indie pics - "Staten Island Summer," produced by Lorne Michaels, and "Dermaphoria."
In 2012, Walsh was seen in Summit Entertainment's "The Perks of Being a Wallflower," opposite Paul Rudd, Emma Watson and Logan Lerman. Also, Walsh was in the supernatural thriller "Legion," starring opposite Paul Bettany and Dennis Quaid, and she made a cameo in "Scary Movie 5," a part of the American comedy franchise.
In 2005, Walsh co-starred opposite Will Ferrell and Robert Duvall in "Kicking & Screaming." Other film credits include "Under the Tuscan Sun," "After the Sunset" and "The Family Man."
Walsh returned to her theater roots in 2010 and appeared in an off-Broadway production of "Dusk Rings a Bell." Walsh began her acting career in Chicago, where she studied at the renowned Piven Theater Workshop. Walsh then starred in multiple theater productions at the Shakespeare Repertory, including "Born Guilty," "Moon Under Miami" and "Troilus and Cressida."
Outside of the entertainment business, Walsh launched her own self-financed beauty company and fragrance, Boyfriend, in 2010. In a partnered launch with the Home Shopping Network, Boyfriend sold out in a record-breaking 30 minutes, and in 2011, it climbed the ranks to become a top-10 seller. Her second fragrance, Billionaire, debuted a year later.
---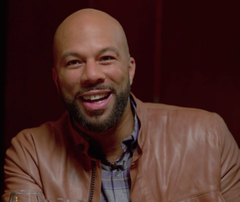 COMMON, with his multi-Grammy Award winning music career, work in film and television, and multiple written works, has emerged as one of Hollywood's most sought after leading men. His numerous film and music credits include roles in the films Smokin Aces, American Gangster, Wanted, Terminator Salvation, Date Night, Just Wright, The Odd Life of Timothy Green, LUV, and Now You See Me. He will next be seen in Run All Night with Liam Neeson and Joel Kinnaman and recently completed filming Selma, a film about the civil rights marches that changed America. (Common recently won and Academy Award for Best Original Song for Selma.)
Prior to acting, Common rose to prominence as one of hip hop's most poetic and respected lyricists having recorded over eight albums and garnering multiple Grammy Awards. In 2004, he partnered with Chicago native and rap music mega-star Kanye West to produce the album Be, which went on to garner four Grammy Award nominations.
In 2007 Common released his critically acclaimed seventh album, Finding Forever, which debuted at #1 on the Billboard 200 Album Chart and went on to earn a Grammy award. His eighth album, Universal Mind Control, was released in 2008 and was nominated for a Grammy in the category of Best Rap Album. Common's ninth album, The Believer, The Dreamer, was released to critical acclaim by Warner Bros. Records.
In 2012, Common joined forces with fellow members of the G.O.O.D. Music crew including Kanye West, John Legend, Pusha T, Big Sean, 2 Chainz, and Kid Cudi to release the highly anticipated album, Cruel Summer. Common plans to release his tenth solo album, Nobody's Smiling, in July 2014. Common also offers the younger generation a better understanding of self-respect and love by utilizing the cultural relevance of hip hop in the children's books The Mirror and Me, I Like You But I Love Me, which was nominated for an NAACP Image Award, and M.E. (Mixed Emotions).
Common recently added to this list of accomplished written works One Day It'll All Make Sense, a revealing memoir which made The New York Times best-seller list upon release. In 2000, Common launched his own philanthropic effort, The Common Ground Foundation, whose mission is dedicated to the empowerment and development of disadvantaged youth in urban communities by mentoring in three areas: character development, creative expression, and healthy living.
---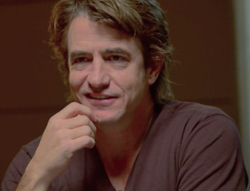 DERMOT MULRONEY recently co-starred in the film adaptation of Tracy Letts' Pulitzer Prize- and Tony Award-winning play, "August: Osage County," opposite Meryl Streep and Julia Roberts, and directed by John Wells. He plays Steve Heidebrecht, who is the less-than-perfect man engaged to Karen Weston (Juliette Lewis). Dermot recently starred in "Jobs," opposite Mia Wasikowska and Nicole Kidman, as well as in Chan Wook Park's "Stoker" and Calvin Lee Reeder's psychedelic western, "The Rambler." All three films premiered at the 2013 Sundance Film Festival.
Throughout his career, Mulroney has starred in more than 65 films, working with the industry's top filmmakers and talent. His film credits include Joe Carnahan's "The Grey," with Liam Neeson; Clint Eastwood's "J. Edgar," with Leonardo DiCaprio; Marc Abraham's "Flash of Genius," with Greg Kinnear; Garry Marshall's "Georgia Rule," with Jane Fonda; David Fincher's "Zodiac," with Jake Gyllenhaal; "The Family Stone," with Diane Keaton, Sarah Jessica Parker and Claire Danes; Gary David Goldberg's "Must Love Dogs," with Diane Lane and John Cusack; Alexander Payne's "About Schmidt," with Jack Nicholson; P.J. Hogan's "My Best Friend's Wedding," with Julia Roberts and Cameron Diaz; Robert Altman's "Kansas City," with Jennifer Jason Leigh; "Young Guns," with Kiefer Sutherland; and Blake Edward's "Sunset," with James Garner and Bruce Willis.
On television, Mulroney recently guest starred in the second season of HBO's "Enlightened," opposite Laura Dern, and as Zooey Deschanel's love interest on Fox's "New Girl."
Mulroney is a classically trained cellist who has played with the scoring orchestras for Academy Award-winning composers such as James Newton Howard and Michael Giacchino.
---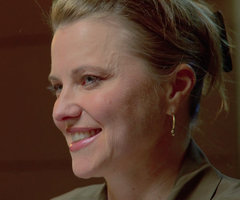 LUCY LAWLESS is most famously known for her role as Xena the Warrior Princess. Lucy is married to producer Robert Gerard Tapert and resides in New Zealand. They have two sons, Julius Robert Bay Tapert and Judah Miro Tapert who were both born in New Zealand. Lucy also has a daughter, Daisy Lawless, from her first marriage to Garth Lawless.
She was awarded an Order of Merit in the New Zealand Queen's Birthday Honor List in June 2004. Lucy, whose role as Xena in Xena: Warrior Princess made her a cult television star, has been involved with the Starship Foundation and has held a role on its board of trustees. She was awarded the Order of Merit for services to entertainment and the community.
In 1995 Lucy landed the role of Xena: Warrior Princess in the show Hercules: The Legendary Journeys in a three story arc that led to her own spin-off show Xena: Warrior Princess for six seasons. Whilst she has been primarily known for her role on Xena: Warrior Princess, Lucy has also appeared in the classic TV series Battlestar Galactica in the semi-regular role of D'anna Biers amongst her other many and varied roles including the hit Adam Sandler movie Bedtime Stories. Lucy was also in several made-for-TV movies including: Locusts and Vampire Bats. She also lent her voice to the straight-to-video movies: Justice League: The New Frontier and Dragonlance: Dragons of the Autumn Twilight.
During 2011 Lucy appeared in the No Ordinary Family as the mysterious Mrs X and also appeared in the prequel to Spartacus: Blood and Sand, Spartacus: Gods of the Arena and Spartacus Vengeance as Lucretia. Her most recent role was Caroline Platt in Jane Campion's Top of the Lake, a BBC Mini-Series in New Zealand with Holly Hunter and Elisabeth Moss. She played the recurring character of Diane Lewis on NBC's Parks and Recreation.