Ep. 111 | Adam McKay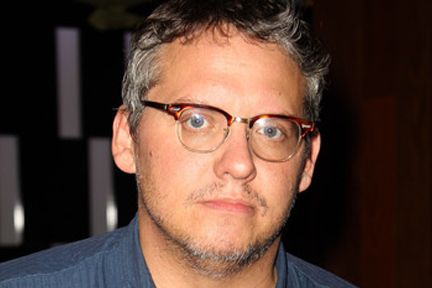 ---
Two-time Emmy nominated Writer/Director Adam McKay (The Other Guys, Step Brothers, Anchorman) talks with Matt LIVE on The Matthew Aaron Show this Wednesday (6/6) evening starting at 6pm PT.
Adam will be calling in to discuss his career as well as the latest developments on the long awaited but just announced ANCHORMAN 2.
---
Show starts at 6pm PT (8pm CT / 9pm ET). Subscribe for free and download the show on APPLE PODCASTS. You can also listen on the go on your Android/iPhone/iPad device via SPOTIFY.
---
ADAM MCKAY was born in Philadelphia, PA on April 17, 1968, the son of a professional musician (as was, coincidentally, future partner Will Ferrell). After graduating from the Philly suburb of Malvern's Great Valley High School in 1986, he began performing stand-up in local bars and restaurants, but by his own account, was "atrocious," inspiring one audience member to hurl a bottle at him. He attended Penn State and Temple universities, then moved to Chicago, IL to study improvisational comedy at The IO, or Improv Olympic Theatre, under Del Close, a legendary actor-teacher who had directed Chicago's Second City Theatre, where he trained many future "Saturday Night Live" stars. Other IO alumni around McKay's time in attendance included actors Vince Vaughn, Tina Fey, Amy Poehler and Andy Dick. In 1992, McKay was one of the co-founders of the comedy troupe Upright Citizens Brigade. He also joined the cast of The Second City Theatre, where some of his most memorable work included "The Pinata Full of Bees" and his portrayal of political theorist Noam Chomsky as a substitute kindergarten teacher. One of his sketches was included in the Second City 40th Anniversary revue, in which a personnel manager struggles to inform the company Vice President of the VP's low IQ test results without getting fired.
In 1994, McKay auditioned for "SNL" but was rejected as a cast member. But after submitting four politically edged scripts, he joined the writing staff in 1995. Only a year later, he was promoted to head writer, and would remain with the show until 2001, during which time the "SNL" writing team would earn one Emmy and two WGA nominations. McKay encouraged fellow Second City alumni Tina Fey to submit scripts to the show, and she would later take over as "SNL" head writer. Over the years he made numerous on-camera appearances, and had a recurring role as the obnoxious audience member "Keith" who would insult the guest hosts during their opening monologue, sometimes driving the hosts to physically attack him. He also directed the original SNL Digital Shorts, featuring stars such as Willem Dafoe, Ben Stiller and Steve Buscemi.
After leaving the show, McKay teamed up with "SNL" cast member and good friend Will Ferrell to write the feature "Anchorman: The Legend of Ron Burgundy" (2004), which McKay would later direct. The movie featured Ferrell as the titular newscaster, an arrogant moron who eventually learns to outgrow his male chauvinism amidst a cast of office misfits that included Steve Carell and Paul Rudd. Apart from making an small fortune at the box office, it added luster to Ferrell's rising star after his winning performance in "Old School" (2003). Afterwards, McKay was brought onboard as an uncredited writer for Ferrell's next movie, the remake of the 1960s sitcom "Bewitched" (2005), but nothing could save that film from critical evisceration, though it performed decently at the box office. McKay and Ferrell's next major collaboration was "Talladega Nights: The Ballad of Ricky Bobby," featuring Ferrell in his full-on narcissistic-but-loveable persona, only this time in the guise of NASCAR driver. McKay not only co-wrote and directed the film, he appeared onscreen as Terry Cheveaux and contributed songs to the soundtrack; something he would also do for his next two features. Unlike "Bewitched," the film grossed $148 million, received decent critical reviews and reinvigorated Ferrell's fan base.
In April 2007, McKay and Ferrell premiered the comedy video site "Funny Or Die," which featured both original content and videos submitted by users. A number of McKay and Ferrell's friends, including director Judd Apatow, contributed material, but the site's most famous offering came with one of its first, "The Landlord." In the recurring short, McKay's toddler daughter Pearl bullied Ferrell, letting loose a stream of profanities. The short went viral immediately and became the site's first big success. Ferrell and McKay also formed the production company Gary Sanchez Productions, named, as a joke, after a man Ferrell met working at a car wash in Manhattan Beach. The company would produce the duo's subsequent collaborations as well as a number of film and television projects by other filmmakers, including the team of director Jody Hill and actor Danny McBride with "The Foot Fist Way" (2006) and HBO's comedy series "Eastbound and Down" (2009- ).
McKay's next directorial effort, "Step Brothers," reunited Ferrell with "Talladega" co-star John C. Reilly. The actors both played losers who lived at home with their respective single parents; when their parents remarry, the two are forced to live with each other, with disastrous results. It received more mixed-to-negative reviews and grossed less than "Talladega," but still made $100 million. In 2009, the duo took a break from the big screen with the Broadway show, "You're Welcome America: A Final Night with George Bush," featuring Ferrell's Bush impersonation he had famously honed during his years on "SNL." McKay directed and contributed to the material. The show was broadcast live on HBO in March 2009 and broke the house record at The Cort Theater. McKay and Ferrell's next venture, "The Other Guys" (2010), did fare better with critics than "Step Brothers" and racked up $118 million. This time Ferrell was paired with Mark Wahlberg as desk jockey cops who whine that they never see any action, but have their chance to crack a big case when they uncover Wall Street corruption.