Ep. 150 | Kristina Anapau & George Motz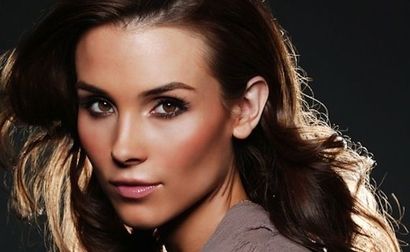 ---
Model/Actress Kristina Anapau (True Blood, Black Swan, Cursed...) & Author/TV Host George Motz (Burger Land, Hamburger America...) join us on The Matthew Aaron Show this Wednesday (5/15) as we broadcast LIVE from Taste Chicago in Burbank starting at 4pm PT.
Kristina will be joining us live to discuss how she first discovered her love of acting, her current role as the fairy Maurella on HBO's TRUE BLOOD who's fifth season will be released on DVD/Blu-ray on May 21st. Kristina will also give us some insight on what to expect for True Blood's upcoming sixth season which will debut on HBO June 16th.
---
George took some time last week to record an interview with Matt to talk about his diverse career as an Emmy winning filmmaker, author, burger expert & host of BURGER LAND on the Travel Channel.
---
Show starts at 4pm PT (6pm CT / 7pm ET). Stop on by Taste Chicago and experience the show in person, otherwise you can subscribe for free and download the show on APPLE PODCASTS. You can also listen on the go on your Android/iPhone/iPad device via SPOTIFY.
---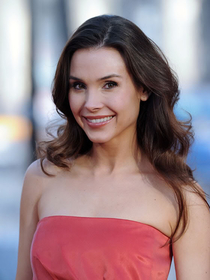 KRISTINA ANAPAU has wowed audiences on the big and small screen alike.
Anapau is currently recurring on the hit HBO series, True Blood, as the enchanting Maurella. She was in Darren Aronofsky's, Black Swan, as Galina, alongside Oscar-winner, Natalie Portman, Mila Kunis, Winona Ryder, and Barbara Hershey. We will be seeing a lot of Anapau on the big screen in the coming months, with four features slated for release in 2013. She recently completed the starring role in the feature film, Sighting, directed by Tedi Sarafian, and another starring role in the special ops action thriller, BlackJacks. Anapau also co-produced and stars in the paranormal thriller, 5 Souls, and plays opposite Tom Sizemore in, The Speak.
Born in Hawaii, she spent her youth studying classical ballet, music and theatre. She graduated from high school at the age of 15, and that same year began her studies at The University of Hawaii. With dreams of pursuing a professional dance career, Anapau's life would soon take a fateful turn, as she was cast in the Universal Television movie, Escape From Atlantis, landing her first professional starring role at the age of 16. Soon after, she relocated to Los Angeles where she continued to work steadily both theatrically and commercially. At age 20, Anapau was offered a recording contract with Hollywood Records and spent much of that year recording an album and opening for Destiny's Child on MTV's TRL Tour, but her true love and passion remained performing in film and television. Anapau has trained and performed theatrically under the tutelage of The Royal Acadamy of Dramatic Art in London, and on the ballet front with American Ballet Theater and The Joffrey Ballet in New York City.
She acted alongside Golden Globe winner, Diane Venora and Greg German in ThinkFilm's, Self Medicated, winner of over 35 International film awards. Anapau also starred with Christina Ricci and Jesse Eisenberg in the Dimension Films' thriller, Cursed, directed by Wes Craven, and shined as Cassie Merteuil in the Sony Pictures/Newmarket Films release, Cruel Intentions 3. She appeared in the films, Madison, starring Jim Caviezel and Bruce Dern, as well as, the Lions Gate comedy, 100 Girls.
Her television credits are impressive as Anapau has recurred and guest starred in many noteworthy productions, including: True Blood, The Glades, House, Monk, CSI:NY, Without A Trace, Once & Again, General Hospital, and Knight Rider. She also starred opposite popular comedian, Dane Cook, in the Sony Television produced pilot, Cooked.
In her spare time, Anapau enjoys writing, traveling, skiing, and horseback riding. She has also recently become a contributing editorial writer for The Stndrd magazine and The Hollywood Film Journal. Anapau is a graduate of Skidmore College in New York and currently lives in Los Angeles.
---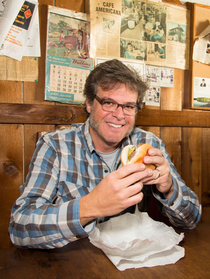 GEORGE MOTZ is an author, burger expert and host of Burger Land. George is a well traveled, Emmy award-winning freelance filmmaker and photographer based in New York City. Over the past 23 years he has worked on numerous television commercials, feature films, music videos, promos and documentaries. In Burger Land, George takes a road trip across America, offering viewers his unique perspective on the nation's top burgers in various regions of the country.
In 2011, Motz starred in Travel Channel's Made In America, where he traveled the country to explore the workshops, labs and factories that crank out the ingenious products America has to offer.
Hamburger America, his second documentary film that he shot, produced, edited and directed, was completed in the spring of 2005. The film was nominated in 2006 for a James Beard Foundation Award and won the audience award at the 2009 Modesto Film Festival. The film's success led to a state-by-state guide to hamburgers, also titled Hamburger America, written by George with over 250 of his original hamburger photos.
George is also the director of the Food Film Festival which is held annually in NYC, Chicago and Charleston. It is a multi-sensory film festival where the audience is treated to the food they see on the screen.
George lives in Brooklyn, NY, with his wife Casey and 2 children, Ruby and Mac.