Ep. 168 | Erik LaRay Harvey & Jonathan Holiff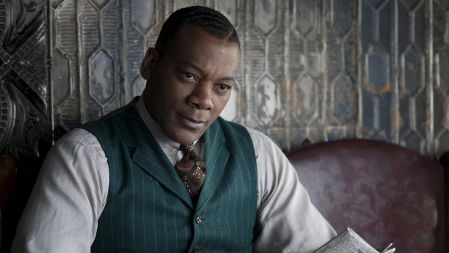 ---
Actor Erik LaRay Harvey (Boardwalk Empire, Rounders, Twister...) & Writer/Director Jonathan Holiff (My Father and the Man in Black) join us on The Matthew Aaron Show this Wednesday (9/4) as we broadcast LIVE from Taste Chicago in Burbank starting at 4pm PT.
Erik took a little time to chat with Matt earlier today about his career and his role as Dunn Purnsley, Chalky White's second in command on BOARDWALK EMPIRE which makes its season 4 debut this Sunday (9/6) night on HBO.
---
Jonathan joins us in person to discuss his documentary MY FATHER AND THE MAN IN BLACK which details his father's life as manager of Johnny Cash from 1960 - 1973.
---
Our old pal Jennifer Candy will be with us as well as our special GUEST CO-HOST.
---
Show starts at 4pm PT (6pm CT / 7pm ET). Stop on by Taste Chicago and experience the show in person, otherwise you can subscribe for free and download the show on APPLE PODCASTS. You can also listen on the go on your Android/iPhone/iPad device via SPOTIFY.
---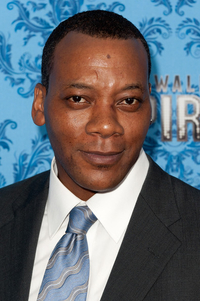 ERIK LARAY HARVEY was born in Washington, D.C. where he lived until he was 10 years old. His family moved and traveled throughout Africa until he was 18. He returned to the U.S. and became a graduate of New York University's prestigious School of Drama.
In the Fall of 2011, Erik began his recurring role as Dunn Purnsley in The Emmy Winning  HBO Drama Series, "Boardwalk Empire," playing a career criminal from Baltimore who becomes Chalky White's second-in-command. In season four, the impulsive Dunn Purns is tested on many levels which will bring his character into focus.
Erik appeared in the films "Twister" (1996,) "Rounders" (1998,) & "The Caveman's Valentine" (2001) as well as on "Law & Order," "Law & Order: SVU" and "Law & Order: Criminal Intent."
---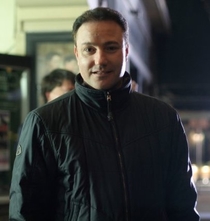 JONATHAN HOLIFF made his directorial debut with the  feature documentary MY FATHER AND THE MAN IN BLACK. Since June 2012, the film has played more than 30 festivals, in 15 countries, winning 8 competitions. It will be released in Canada, UK, and USA in September.
Holiff got his start in public relations. In the mid-1980s, he managed the music division for a leading Toronto entertainment PR firm. He also served as publicist for a number of TV shows, and was on the team that launched The Decline of the American Empire at the 1986 Toronto International Film Festival (TIFF).
For the next decade, Holiff joined the Canadian Broadcasting Corporation (CBC), where he was a producer on seven installments of The NHL Awards broadcast annually from Toronto on CBC and ESPN.
Holiff specialized in live television and music specials. He put Celine Dion, Alanis Morissette, Shania Twain and Sarah McLachlan on Canadian television--before they achieved success in the United States and around the world.
Holiff was also instrumental in the production of Cybermania '94 in Los Angeles--the first televised awards show for video games. He has since worked on television shows broadcast by FOX, CBS and TBS in the United States.
In 1992, Holiff joined the William Morris Agency in Beverly Hills. Recognizing that  advertisers needed help identifying and securing celebrities for endorsements, he left the company to form The Hollywood-Madison Group--a leading entertainment-marketing agency in Los Angeles.
In a Hollywood career that spanned 15 years, Holiff hired hundreds of celebrities including Martin Scorsese, Dennis Hopper and Jessica Simpson for Fortune 500 companies including General Motors, Procter & Gamble and Sony Electronics.
Holiff's techniques for analyzing celebrity endorsements are profiled in Advertising and Promotion: An Integrated Marketing Communications Perspective; Sixth Edition, published by McGraw-Hill in 2003. The textbook is in use at more than 100 colleges across the United States.
In 2005, Holiff left Hollywood to pursue independent projects. He currently lives in Canada on Vancouver Island.
---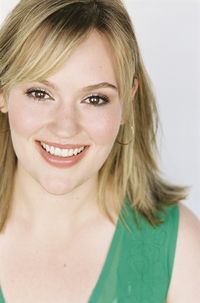 JENNIFER CANDY doesn't really live in Melonville or Leutonia, or go to Camp Candy … or really know Harry the guy with a snake on his face, Yosh or Stan Schmenge, although she does love to celebrate the feast of "Falutniks" and "the exchanging of the socks" just like them.
Jennifer was born in Toronto,Canada on February 3rd.  She spent most of her growing up  in Los Angeles,California with summer vacations to their family farm  just North of Toronto.  She attended Loyola Marymount University, and graduated as a Theatre Arts Major.  After that she moved to Chicago to work and study at Second City Chicago. It took only two winters  when she decided to move back to Sunny California. From this point Jennifer really start to build her acting resume.  Working on shows like Mad Tv,According to Jim and The Defenders. She is currently staring in an up coming web series called "Someone Better".  She has played with  multiply sketch groups like Double Down and Danger ,Danger. She has also been in  a few documentaries about her father , the late great John Candy. Double Blue was her favorite piece about her father.  Acting is her passion and is in her blood, She is so fortunate and happy that she is able to do this for a living.