Ep. 2 | Chris Williams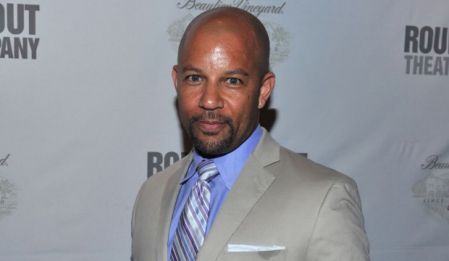 ---
Actor Chris Williams (Curb Your Enthusiasm, Californication, Dodgeball...) joins us on The Matthew Aaron Show LIVE this Thursday (4/28) evening starting at 8:30pm CT.
Chris will be with us to discuss his career and much more.
---
Show starts at 8:30pm CT (6:30pm PT / 9:30pm ET). Subscribe for free and download the show on APPLE PODCASTS. You can also listen on the go on your Android/iPhone/iPad device via SPOTIFY.
---
CHRIS WILLIAMS is an extremely versatile performer in film, television and on stage and is no stranger to the entertainment arena both on and off camera in both comedy and drama.
Film credits include the "The World's Fastest Indian" playing Tina, a transvestite opposite Sir Anthony Hopkins "The Joneses" opposite Demi Moore as well as a lead in the classic comedy "Dodgeball: A True Underdog Story". Other credits include "The Lottery Ticket" "Friday After Next", "Sex Ed" and the upcoming film "TRI".
As for television, he can soon be seen on the Showtime series "DICE" starring Andrew Dice Clay, was a series regular in the NBC sitcom "One Big Happy", has recurred on "Satisfaction" "Californication" starred on David E. Kelley's series "The Wedding Bells" and is best known as 'Krazee Eyez Killa' on "Curb Your Enthusiasm". He has guest starred on Ugly Betty, CSI: Miami, Hot in Cleveland, Monk, Weeds, and numerous others. Chris had also appeared multiple times on Late Night with David Letterman as the angry audience member and has an upcoming self help show "Be a Better Man with Chris Williams" which he created, stars in and produces. Chris has also lent his vocal talents to such animated series as The Boondocks and Word Girl and can be heard on several video games including multiple characters in Crash Bandicoot.
Chris is a successful stand-up, he has performed at several top comedy clubs around the world including: Caesar's Palace, The Improv, The Comedy Store and The Venetian. His innovative routines are included in his character-rich one-man show "Old Blue Eyes Is Black" while also having studied with the Groundlings.
Chris has been coaching other professional actors the craft of scene work as well as improvisation for over 15 years and speaks to children across the nation about the art of performing.
A graduate of Georgetown University, he is a magician's member of the Academy of Magical Arts (The Magic Castle) and when not practicing as a 3rd degree black belt in Tae Kwon Do or running marathons to raise money for the American Diabetes Association and Eye Bank of New York, Chris divides his time between Los Angeles and New York.