Ep. 20 | 2011 Exxxotica Expo Day 1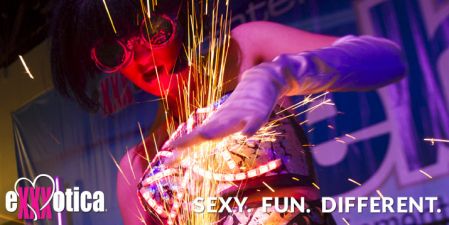 ---
The Matthew Aaron Show swings by for a LIVE broadcast from the 2011 EXXXOTICA EXPO this Saturday (7/9) afternoon starting at 1pm CT.
Make sure the kiddies are out of the house when you tune in and listen Matt and the guys flap their yaps at some of today's biggest Adult Film stars.
---
Show starts at 5pm CT (3pm PT / 6pm ET). Subscribe for free and download the show on APPLE PODCASTS. You can also listen on the go on your Android/iPhone/iPad device via SPOTIFY.
---
EXXXOTICA is The Largest Adult Event in the USA Dedicated to Love & Sex. Taking place over three days, this event was created for adults who are looking for something Sexy, something Fun, and something Different.
Whether for date-night, bachelor or bachelorette parties or just good ole people watching, there's something for everyone (over 18) at EXXXOTICA. You want to spice up your love life with a new toy or technique? Then shop from our 100 plus exhibitors or catch  one of our many educational seminars. Want to meet your favorite adult stars, and take some photos with them? EXXXOTICA brings out over 150 of the top stars in the industry and they're there to meet you, their fans. Are you in the mood for live performances? We have a full blown entertainment stage where burlesque, male revues, and our very own Ms. EXXXOTICA 2015 will be crowned. You like to people watch you say? See something you've never seen before? Make your way to one of our most popular show features, The Stockroom Dungeon Experience to see BDSM demonstrations on suspension rigs and spanking benches and learn about fetish lifestyle first hand. If you're daring you're welcome to participate.
That's the beauty of EXXXOTICA. The entire event is an interactive experience that allows you to engage at your own personal comfort level. We expect you'll come out of your shell a little… or a lot, depending on who you are, but it's all in good fun! Ladies, if you're still not sure about it come on Friday. EXXXOTICA features Ladies Free Friday so no excuses! Get dressed up, and bring your girlfriends for a ladies night out or bring your hubby for the best date-night ever.  From vanilla to swinger, there's something for everyone.
If you're looking for the ultimate EXXXOTICA experience, GO VIP! 3-Day VIP's get a VIP lanyard and badge to identify you and all VIP ticket holders get a custom EXXXOTICA bag and tee shirt, DEEP discounts to exhibitors & sponsors, access to the VIP Lounge and Viewing Area, the ONLY spaces on the show floor where you can drink alcohol. You'll also get FREE entry to the official EXXXOTICA After Parties. Big time value with no limits on the good time to be had.
You can even win serious money at EXXXOTICA. This year we're introducing something brand new – The EXXXOTICA Expo Mobile Scavenger Hunt! The hunt, which is 100% free, leads you through the excitement of the EXXXOTICA Expo show floor to take photos with stars, check in at our show features, answer some trivia and scan QR codes, all while getting points for each task completed. The overall highest scorer will receive cold hard cash while other runners-up will receive prize packs and free VIP tickets to next years event!
In closing, if you've read this far, you're obviously into it. Why not try something different? We promise we won't bite… Unless you want us too.