Ep. 205 | Cary Elwes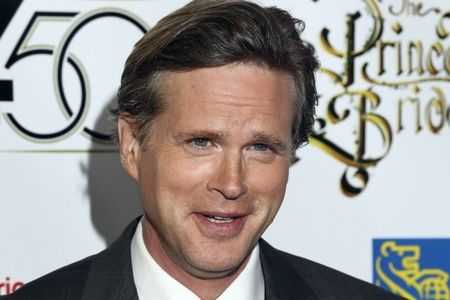 ---
Actor Cary Elwes (Psych, Robin Hood: Men in Tights, The Princess Bride…) joins us on The Matthew Aaron Show this Wednesday (9/10) at 5pm PT/7pm CT as we broadcast from live from Chicago.
Cary joins us to discuss his career, his upcoming book AS YOU WISH: INCONCEIVABLE TALES FROM THE MAKING OF THE PRINCESS BRIDE (available for pre-order on Amazon), and other upcoming projects.
---
Show starts at 5pm PT (7pm CT / 8pm ET). Subscribe for free and download the show on APPLE PODCASTS. You can also listen on the go on your Android/iPhone/iPad device via SPOTIFY.
---
CARY ELWES was born in Westminster, London, England. He is the third and youngest son of portrait-painter Dominick Elwes and interior designer and socialite Tessa Kennedy. His brothers are Damian Elwes, an artist, and Cassian Elwes, a producer and agent. He was the stepson of Elliott Kastner, an American film producer. Elwes' paternal grandfather was painter Simon Elwes, whose father was the diplomat and tenor Gervase Elwes (1866–1921). His other great-grandfathers were diplomat Rennell Rodd, 1st Baron Rennell, Sir John Macfarlane Kennedy, and Croatian industrialist Ivan Rikard Ivanović. Elwes' ancestry is English, Irish, Scottish, Croatian Jewish, and Serbian (the latter two through his maternal grandmother, Daška McLean, born Daška Marija Ivanović-Banac; her brother, Elwes' great-uncle, was diplomat Vane Ivanović). One of Elwes' ancestors is John Elwes, who is alleged in some sources to have been the inspiration for Ebenezer Scrooge in A Christmas Carol (1843) (Elwes played five roles in the 2009 film adaptation of the novel).
He was brought up as a Roman Catholic and was an altar boy at Westminster Cathedral, although he did not attend denominational schools, unlike most of the men on his father's side of the family, including his own father. Elwes attended Harrow School in London and then the London Academy of Music and Dramatic Art. He discussed some of this background in an interview while he was filming the 2005 CBS television film, Pope John Paul II, in which Elwes played the young priest Karol Wojtyła, many years before he was elected pontiff in 1978.
His parents divorced when he was four years old, and in 1975 when Elwes was thirteen his father committed suicide. In 1981, he returned to the United States to study acting at Sarah Lawrence College in Bronxville, New York. While living in New York, Elwes studied acting at both the Actors Studio and the Lee Strasberg Theatre and Film Institute.
Elwes worked as a production assistant on the films Octopussy and Superman, where he worked for a week assigned to Marlon Brando. When Elwes introduced himself, Brando told him he was lying and that his (Elwes') name was actually Rocky.
Elwes made his acting debut in 1984 with Marek Kanievska's film Another Country. He played James Harcourt, a young and sentimental homosexual student from an English boarding school. He went on to play Guilford Dudley in the British film Lady Jane, co-starring Helena Bonham Carter. He was cast as a stable boy turned swashbuckler Westley in Rob Reiner's fantasy-comedy The Princess Bride, based on the novel of the same name by William Goldman. It was a modest box office success, but received critical acclaim, earning a score of 96% on the review aggregation website Rotten Tomatoes. Since being released on home video and television it has become a cult classic. In an interview around the film's DVD release in 2001, Elwes said, "The studio didn't know how to sell it – as an adventure, fantasy, comedy or love story, it had to rely on word of mouth". He also acknowledged the film's cult following saying, "Many people tell me they have it in their video collection, it's a family film but also a cult film in a way, being passed down to other generations".
He continued working steadily, varying between dramatic roles, as in The Bride (1985) with Sting and Jennifer Beals, to the Academy Award-winning Glory (1989), and comedic roles, as in Hot Shots! (1991). In 1993, he starred as Robin Hood in Mel Brooks's comedy, Robin Hood: Men in Tights. Elwes also appeared in such films as Francis Coppola's adaptation of Bram Stoker's Dracula, The Crush, Rudyard Kipling's The Jungle Book, Twister, Liar Liar, and Kiss the Girls. In 1999, he portrayed famed theatre and film producer John Houseman for Tim Robbins in his ensemble film based on Orson Welles's musical, Cradle Will Rock. And months after that he traveled to Luxembourg to work with John Malkovich and Willem Dafoe in the Academy Award Nominated Shadow of the Vampire. In 2001, he traveled to Berlin to work on Peter Bogdanovich's The Cat's Meow portraying the doomed movie mogul Thomas Ince.
In 2004, he starred in the horror–thriller Saw which, at a budget of a little over $1 million, grossed over $100 million worldwide. The same year he appeared in Ella Enchanted, this time as the villain not the hero. He made an uncredited appearance as Sam Green, the man who introduced Andy Warhol to Edie Sedgwick, in the 2006 film Factory Girl. In 2007, he appeared in Garry Marshall's Georgia Rule opposite Jane Fonda. Two years later he appeared in Robert Zemeckis's motion capture adaptation of Charles Dickens' A Christmas Carol portraying five roles. That same year he was chosen by Steven Spielberg to appear in his motion capture adaptation of Belgian artist Hergé's popular comic strip The Adventures of Tintin.
Elwes returned to the Saw franchise in Saw 3D (2010), the seventh and final film in the series, as Dr. Lawrence Gordon. Elwes was set to portray George Harrison in Zemeckis's 3D motion capture re-telling of Yellow Submarine; however in May 2011, Disney withdrew from the project. In 2011, Elwes was chosen by Ivan Reitman to star alongside Natalie Portman in his comedy No Strings Attached. That same year, he and Garry Marshall teamed up together again when he joined the ensemble of romantic comedy New Year's Eve opposite Robert de Niro.
In 2012, Elwes appeared in the independent drama The Citizen. In 2013 Elwes joined Selena Gomez for the comedy ensemble, Behaving Badly directed by Tim Garrick. This year he has completed four movies: John Herzfeld's comedy Reach Me opposite Sylvester Stallone; the ensemble drama, Sugar Mountain directed by Richard Gray; and the dramas H8RZ directed by Derrick Borte and The Greens Are Gone directed by Peer Pedersen opposite Catherine Keener.
On 13 December 2012, The Hollwood Reporter announced that Elwes will make his directorial debut with an independent film about the life of Kit Lambert, manager of the iconic rock group The Who, working with a script by Pat Gilbert, a former editor of the British music magazine Mojo. The film is based on interviews and recordings with Lambert made by journalist Jon Lindsay, and is being produced by Orian Williams.
In 1996, Elwes made his first television appearance as David Lookner on the sitcom Seinfeld. In 1998, he played astronaut Michael Collins in the Golden Globe Award-winning HBO miniseries From the Earth To the Moon. The following year Elwes was nominated for a Golden Satellite Award for Best Performance by an Actor in a Mini-Series or Motion Picture Made for Television for his portrayal of Colonel James Burton in The Pentagon Wars directed by Richard Benjamin. In 1999, he guest starred as Dr. John York in an episode of the television series The Outer Limits. Shortly afterward he received another Golden Satellite Award nomination for his work on the ensemble NBC Television movie Uprising opposite Jon Voigt directed by Jon Avnet. Elwes had a recurring role in the final season (from 2001 to 2002) of The X-Files as FBI Assistant Director Brad Follmer. In 2004, he received great praise with his portrayal of serial killer Ted Bundy in the A&E Network film The Riverman, which became one of the highest rated original movies in the network's history and garnered a prestigious BANFF Rockie Award nomination. The following year, Elwes played the young Pope John Paul II in the CBS television film Pope John Paul II opposite Jon Voigt again. The TV film was highly successful not only in North America, but also in Europe, where it broke box office records in the late pope's native Poland and became the first film ever to break $1 million (GBP588,200) in three days.
In 2007, he made a guest appearance on the Law & Order: Special Victims Unit episode "Dependent" as a Mafia lawyer. In 2009, he played the role of Pierre Despereaux, an international art thief, in the fourth season premiere of Psych. In 2010, he returned to Psych, reprising his role in the second half of the fifth season, and again in the show's sixth season. In March 2011, Elwes was selected to appear as Henry Detmer in the pilot episode of NBC's Wonder Woman. However, the show was never picked up for a series. Elwes recently completed work on the USA Network TV movie, Horizon, produced by Gale Anne Hurd. In 2014, Elwes began playing Hugh Ashmeade, the CIA Director, in the second season of the BYU tv series, Granite Flats.
In October 2014, Touchstone (Simon & Schuster) will publish Elwes's memoir of the making of The Princess Bride, entitled As You Wish: Inconceivable Tales from the Making of The Princess Bride. The book is filled with never-before-told stories, exclusive photographs, and interviews with costars Robin Wright, Wallace Shawn, Billy Crystal, Christopher Guest, and Mandy Patinkin, as well as author and screenwriter William Goldman, producer Norman Lear, and director Rob Reiner.