Ep. 22 | Gary Sinise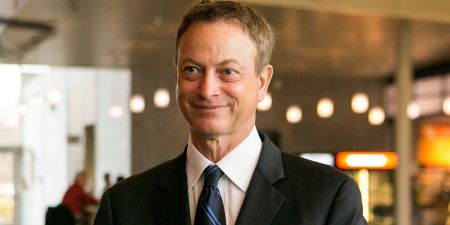 ---
Academy Award Nominee & Golden Globe Winning Actor Gary Sinise (Forest Gump, Apollo 13, Ransom...) joins us on The Matthew Aaron Show LIVE this Monday (7/11) MORNING starting at 10:30am CT.
Gary will be with us to discuss his work with Veterans/Military and the big 6TH ANNUAL ROCKIN' FOR THE TROOPS 2011 Benefit Concert headlined by the Lt. Dan Band at Cantigny Park in Wheaton, IL on July 16th.
---
This special MORNING show starts at 10:30pm CT (8:30am PT / 11:30am ET). Subscribe for free and download the show on APPLE PODCASTS. You can also listen on the go on your Android/iPhone/iPad device via SPOTIFY.
---
GARY SINISE's career has spanned more than four decades. His performance in that iconic role was nominated for an Academy Award, Golden Globe and Screen Actors Guild Award and earned Sinise the Best Supporting Actor Award from the National Board of Review, the Saturn Award for Best Supporting Actor from the Academy of Science Fiction, Fantasy and Horror films, and the Commander's Award from the Disabled American Veterans. Sinise went on to starring roles in the critically-acclaimed Apollo 13 opposite Tom Hanks and Kevin Bacon, the thriller Ransom with Mel Gibson and Rene Russo, and Brian DePalma's psychological thriller Snake Eyes with Nicholas Cage.
Most recently, Gary starred as Detective "Mac" Taylor in CBS's highly successful CSI: NY. Executive produced by Jerry Bruckheimer and Anthony Zuiker, the series ran for nine seasons. Sinise was last seen on the big screen in Columbia Pictures' The Forgotten with Julianne Moore and The Human Stain opposite Anthony Hopkins, Nicole Kidman and Ed Harris. He also provided the voice of Shaw in Sony's animated feature Open Season.
Gary Sinise was born in Blue Island, Illinois to a family who supported his artistic endeavors and encouraged his drive to create. At the age of 18, after graduating from high school in Highland Park, he co-founded the Steppenwolf Theatre Company of Chicago along with friends Jeff Perry and Terry Kinney. He served as Steppenwolf's Artistic Director for five years during the 1980's.
Since its founding, Steppenwolf has showcased the talents of many notable actors. Now in its fourth decade as a professional theatre company, it receives unprecedented national and international recognition from the media, theatre critics and audiences alike. At the renowned theatre, Sinise has starred in over a dozen productions including the role of Tom Joad in The Grapes of Wrath, for which he garnered a Tony Award nomination and a Drama Desk Award. Other credits at Steppenwolf include Rosencrantz and Guildenstern Are Dead, Balm in Gilead, Of Mice and Men, Loose Ends, The Fifth of July, Streamers and The Caretaker. He received a Joseph Jefferson Award in 1980 for Best Supporting Actor in Marsha Norman's Getting Out at Chicago's Wisdom Theatre. In 1997 he starred as Stanley Kowalski in A Streetcar Named Desire and in 2000 as Randle Patrick McMurphy in One Flew Over the Cuckoo's Nest at Steppenwolf, the Barbican Theatre in London, and then in 2001 a move to Broadway, earned him another Tony nomination for Best Actor.
In 1982, Sinise directed and co-starred with John Malkovich in the landmark production of Sam Shepard's True West both at Steppenwolf and off Broadway at The Cherry Lane Theatre. He won an Obie Award for Best Director. In 1995 he directed Sam Shepard's Buried Child which kicked off Steppenwolf's 20th Anniversary season and continued with a limited run on Broadway the following year. The production was nominated for five Tony Awards, including Best Director and Best Play. His other directing credits include the Vietnam War drama Tracers, Frank's Wild Years with Tom Waits, The Miss Firecracker Contest, Waiting for the Parade, Action, Road to Nirvana, and Landscape of the Body at Second Stage Theatre in New York. In 1985 he received a Joseph Jefferson Award for his direction of Lyle Kessler's Orphans, which also played off-Broadway. In 1986 the show opened in London's West End, this time with Albert Finney.
Sinise made his mark as a feature film director with Of Mice and Men, which he co-produced and co-starred in with John Malkovich, as well as Miles From Home starring Richard Gere, Kevin Anderson, Helen Hunt and John Malkovich. Both films were screened in competition at the Cannes Film Festival.
Sinise is a four-time SAG Award nominee, Forrest Gump, The Stand, Truman and George Wallace. On television, he has starred in Showtime's adaptation of Jason Miller's Pulitzer Prize winning play That Championship Season directed by Paul Sorvino and gave multiple award-winning performances in HBO's Truman (Golden Globe, CableACE and Screen Actors Guild) and John Frankenheimer's George Wallace (Emmy, Screen Actors Guild, and CableACE) for TNT. He also starred in Stephen King's The Stand, in CBS/Hallmark's Fallen Angel and played supporting roles in HBO's Path to War directed by John Frankenheimer and in Hallmark Hall of Fame's My Name is Bill W. with James Woods and James Garner.
His other film credits include Gary Fleder's sci-fi thriller Impostor, John Frankenheimer's Reindeer Games, Brian DePalma's Mission to Mars, Frank Darabont's The Green Mile,
A Midnight Clear, Jack the Bear, The Quick and the Dead, It's the Rage, The Big Bounce and Kevin Spacey's directorial debut Albino Alligator. In 2009 Gary executive produced the documentary Brothers at War, a rare look at the bonds and service of our soldiers on the front lines in Iraq and the profound effects their service has on the loved ones they leave behind.
Sinise was the subject of the Fox News documentary, On the Road in Iraq with Our Troops and Gary Sinise which highlighted his 4th USO tour to the country. He is also the subject of the documentaries Lt. Dan Band: For the Common Good, a film about his travels in support of the US military and first responders of 9/11 in New York City and High Flight: A Voyage to the Edge of Infinity about his flight to 70,000 feet on a U2 Dragon Lady spy plane.
Sinise has narrated the Discovery Channel mini-series When We Left Earth, The History Channel's 10-part docudrama WWII in HD, the Chicago Cubs documentary We Believe: Chicago and Its Cubs, Showtime's Game of Honor, the Military Channel's Missions that Changed the War as well as Navy SEALs: Their Untold Story for PBS and Medal of Honor: The History. He voiced the audio books for John Steinbeck's Travels with Charley in Search of America and Of Mice and Men as well as Stephen King's Nightmares and Dreamscapes, Volume III. He also hosts via video the Epcot Center ride Mission: SPACE at Walt Disney World in Orlando, Florida.
As a result of Sinise's first two trips to Iraq, he founded Operation International Children with Seabiscuit & Unbroken author Laura Hillenbrand. The program spanned from 2004-2013. OIC, with the support from U.S. schools, corporate sponsors, the American people, and the non-profit organization People to People International, supplied the military with over a quarter of a million school supply kits, more than half a million toys, thousands of blankets, backpacks, shoes, Arabic-language books and sports equipment to distribute to children in the conflict areas of Iraq, Afghanistan and elsewhere where US troops were been deployed.
Sinise also served as the national spokesperson for the American Veterans Disabled for Life Memorial Foundation, a memorial that opened on October 5th, 2014 to honor America's three million living disabled military veterans. He was involved in raising funds for The Pentagon 9/11 Memorial, as well as funds to build The Brooklyn Wall of Remembrance at MCU Park in Brooklyn, NY.
In 2011, Sinise launched the Gary Sinise Foundation to honor America's defenders, veterans, first responders, their families, and those in need. The Foundation provides and supports unique programs designed to entertain, educate, inspire, strengthen and build communities. Its premiere program, R.I.S.E. (Restoring Independence Supporting Empowerment) , is building custom Smart Homes for severely wounded heroes.
Other programs include Relief & Resiliency Outreach, Invincible Spirit Festivals, First Responders Outreach, Serving Heroes, and Arts & Entertainment Outreach.
His endless work on behalf of those who've served has earned Sinise many distinguished awards including The Bob Hope Award for Excellence in Entertainment from the Medal of Honor Society, the Spirit of the USO Award, The Ellis Island Medal of Honor, the Spirit of Hope Award by the Department of Defense, and the Dwight D. Eisenhower Award from the National Defense Industrial Association. In 2008, George W. Bush presented him with the Presidential Citizens Medal, the second-highest civilian honor awarded to citizens for exemplary deeds performed in service of the nation, only the third actor ever to receive this honor. He has been named an Honorary Chief Petty Officer by the United States Navy and an Honorary Marine by the United States Marine Corps. A full list of honors and appearances can be viewed at the foundation's website.
For his work in theatre and film as a Producer, Director and Actor, Gary received an honorary doctorate in Humane Letters from Amherst College. He also received an honorary Doctor of Fine Arts from CSU Stanislaus.
Gary has been married to actress Moira Harris since 1981. They have three children, Sophia, McCanna and Ella.