Ep. 221 | Robbie Amell & Steve Tyrell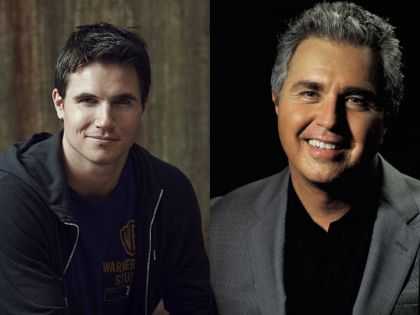 ---
Actor Robbie Amell (The Duff, The Flash, The Tomorrow People...) & Grammy Winning Singer/Songwriter Steve Tyrell join us on The Matthew Aaron Show this Wednesday (2/11) as we broadcast live from Chicago starting at 5pm PT / 7pm CT.
Robbie joins us to discuss his role as "Firestorm" on the CW hit series THE FLASH as well as his new film THE DUFF which he stars in alongside Allison Janney, Ken Jeong, Mae Whitman & Bella Thorne.
---
Steve returns to the show for a third time to discuss his new album THAT LOVIN' FEELING and upcoming tour dates.
---
Show starts at 5pm PT (7pm CT / 8pm ET). Subscribe for free and download the show on APPLE PODCASTS. You can also listen on the go on your Android/iPhone/iPad device via SPOTIFY.
---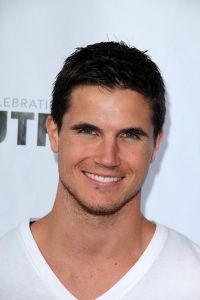 ROBBIE AMELL can currently be seen recurring as 'Firestorm' on the new series by The CW's The Flash. The show airs Tuesday nights at 8pm ET/PT.
In addition to The Duff, Amell can be also be seen in the lead role of 'Kyle Wincott' opposite Josh Wiggins, Lauren Graham and Thomas Haden Church in the adventure/family movie for MGM entitled, Max, written and directed by Boaz Yakin and produced by Karen Rosenfelt. After a soldier (Wincott) dies in the Iraq war, his military trained dog Max is sent back to his family. This is the story of how the family deals with his passing and how the dog ultimately brings the family back together. Max hits theaters January 30, 2015.
In 2014, Amell recently starred in The CW series The Tomorrow People. In 2013, he starred as a regular on the NBC series 1600 Penn and appeared in an eight episode arc in the short-lived series for MTV, Zach Stone Is Going Be Famous. In 2011/2012, Amell was cast as the leading character in the Fox pilot, Like Father, created and directed by Bill Lawrence and also Marc Cherry's ABC pilot, Hallelujah. Amell's other TV credits include guest-starring roles on popular television shows such asHot in Cleveland, Hawaii 5-0, Pretty Little Liars, CSI: NY, Brothers and Sisters, and How I Met Your Mother, as well as recurring on the hit series Revenge. He also starred as the lead character of 'Fred' in Cartoon Network's made-for-TV original moviesScooby Doo! The Curse of the Lake Monster and Scooby Do! The Mystery Begins.
Amell's motion picture credits include; Struck By Lightning, Anatomy of the Tide, and American Pie Presents: Beta House. He played the leading role of 'Andy Brazil' in the TNT original TV movie The Hornet's Nest and the sexy 'Drew Patterson' in Picture This, opposite Ashley Tisdale.
Born in Toronto, Ontario; Amell's journey to Tinseltown wasn't like most young actors. While his mother had secured a commercial and print agent for him at the age of six, Amell was never consumed with Hollywood and concentrated his efforts into sports. He was one of the best hockey players in his high school and had thoughts of going pro when everything changed. When Amell was a junior in high school he was called in for his first ever movie audition for a featured role as Eugene Levy and Carmen Electra's son 'Daniel' in the motion picture Cheaper By the Dozen 2. He fit the mold of the character so well, that the writers gave him a line to say, and then another, and then another and eventually his character blew up to a strong supporting role and Robbie got the acting bug! His parents were very supportive and told him to wait on college for a bit and follow his dream of acting. So, two short years later after graduation, Robbie packed up and headed for Los Angeles.
When Amell isn't acting, one of his passions is being a part of One Heartland a non- profit charity that helps children with HIV and AIDS. He loves to participate in their summer camps that are held every year in Malibu and Minnesota that brings children from all over the world (most from poverty) and give them an expense free week at the camp.
On his down time, Robbie his obsessed with cars, and loves sports, (especially hockey and golf) and hanging out with his fiancée and their two very little dogs.
---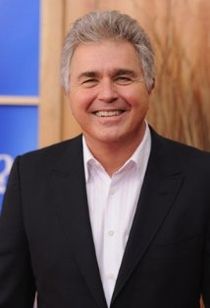 STEVE TYRELL is a Grammy Award-winning vocalist and a true renaissance man. In over four decades in the music business, he has achieved great success as an artist, producer, songwriter, music supervisor, and performer.
Steve Tyrell With his breakthrough performances in "Father of the Bride" and "Father of the Bride II," Steve Tyrell reinvented and re-popularized classic pop standards for a modern-day audience.  With the grit and soul of a lifetime of experiences, producing hits for Grammy-winning Artists ranging from Linda Ronstadt and Aaron Neville, to Rod Stewart and Diana Ross, Steve himself has sold hundreds of thousands of albums and gained a passionate following all over the world.  His hits "The Way You Look Tonight," "The Simple Life," "Crush On You" and "The Sunny Side of The Street," have launched thousands of weddings and millions of romances. He's held top positions at Standards, Swing, and Big Band outlets with a devoted following at key Adult Contemporary Radio.
With sold out shows across America and raves from around the world, his following increases day by day. Although Steve tours mainly with his band, he also enjoys playing with some of the most renown orchestras in the land, and has had multiple performances  with The Boston Pops, The New York Pops, The Nashville Symphony, Kansas City Cymphony, and The Houston Symphony.  Most recently, he has appeared with the New West Symphony performing Joseph Sohms photo symphony "Visions of America" narrated by Clint Eastwood, singing the songs of  Roger Kellaway and Alan and Marylin Bergman.
At the request of the Sinatra family and Quincy Jones, Steve was the featured performer with the Hollywood Bowl Orchestra at their season opening concert in which Frank Sinatra was inducted into the Hollywood Bowl Hall of Fame.  Also at the request of the Sinatra family, he reprised that performance at Carnegie Hall.  This is one of the rare times the family has reached into the vault of original Sinatra arrangements to share them with another artist.
In 2005, after the passing of the legendary Bobby Short, Steve was asked by New York City's Café Carlyle to take over their revered Holiday Season of November and December, which Mr. Short had not missed for 36 years.  In 2013 Tyrell's contract was extended through his 11th season, starting a new Carlyle legacy that now also includes performances in May.
Steve TyrellHis work in the studio as a record producer has included collaborations with such diverse and legendary artists as Rod Stewart, Diana Ross, Ray Charles, Linda Ronstadt, Aaron Neville, Bonnie Raitt, Blood Sweat and Tears, Mary J Blidge, Chris Botti, Dave Koz, Dolly Parton, Smokey Robinson, Burt Bacharach, Bette Midler, Stevie Wonder and the list goes on and on. He even produced an album with the late Andy Griffith, which won the Grammy in 1995 for Gospel Album of the Year.
As an artist, all 9 of his American Standards albums have achieved top 10 status on Billboard's Jazz charts, 7 of which have achieved top 5, and his first album "A New Standard" was amongst the best selling jazz albums for over 5 years.
His voice has been featured on television and in numerous movies.  Most recently, he was asked by Oscar winning Songwriter's Alan and Marilyn Bergman and the late Marvin Hamlisch to sing the end title to Steven Soderbergh's film "The Informant".
As a music supervisor and music producer for film and TV, Tyrell has worked with such distinguished directors as Steven Spielberg, Tom Hanks, Nancy Meyers, Steven Soderbergh, Hugh Wilson, and Charles Shyer.
His songs have been recorded by such revered artists as Ray Charles, Diana Ross, LL Cool J and Elvis Presley, and his song "How Do You Talk To An Angel," written and produced for Aaron Spelling's Fox television series "The Heights," was a No. 1 on Billboards Top 100 Pop Charts.
Aside from being a Grammy Award winner, Tyrell has earned 2 Emmy nominations, received a daytime Emmy, 3 Ace Nominations, 2004 American Society of Young Musician's "All That Jazz Award", 2004 The Wellness Community "Human Spirit Award", 2006 Society of Singers "Lifetime Achievement Award", and 2008 Los Angeles Jazz Society's "Jazz Vocalist of the Year". His productions were nominated have earned over 11 Grammy Awards themselves.  The music he produced for the children's special "Cartoon All Stars to the Rescue" which aired on all three major networks simultaneously was given special recognition by the Emmy's.