Ep. 248 | Paul Blackthorne, Neal McDonough & Mike Medavoy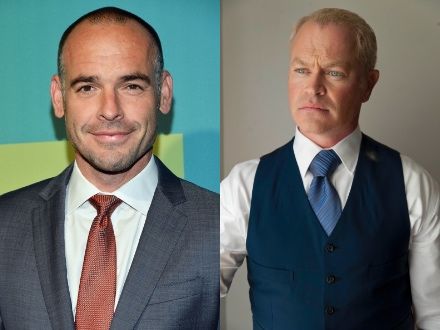 ---
Actor Paul Blackthorne (Arrow, Lipstick Jungle, The Dresden Files...), Actor Neal McDonough (Arrow, Justified, Captain America: First Avenger...) & Former Studio Head turned Oscar Nominated Producer Mike Medavoy (The 33, Black Swan, Shutter Island...) join us on The Matthew Aaron Show this Wednesday (3/16) as we broadcast live from Chicago starting at 5pm PT / 7pm CT.
Paul and Neal took a few minutes out of their busy schedules meeting fans at the HEROES & VILLAINS FAN FEST here in Chicago last weekend to chat with Matt about this season of ARROW and future plans.
---
Mike will be with us to discuss his incredible career which began as an Agent, co-founding ORION PICTURES, becoming Chairman of TRISTAR PICTURES, as well as co-founding PHOENIX PICTURES. Some of the films Mike has been responsible for during his career include ONE FLEW OVER THE CUCKOO'S NEST, ROCKY, APOCALYPSE NOW, RAGING BULL, PLATOON, DANCES WITH WOLVES and PHILADELPHIA just to name a very few.
Mike will also be discussing his new film THE 33 starring Antonio Banderas which is currently available on DVD/Blu-ray as well as VOD.
---
Show starts at 5pm PT (7pm CT / 8pm ET.) Subscribe for free and download the show on APPLE PODCASTS. You can also listen on the go on your Android/iPhone/iPad device via SPOTIFY.
---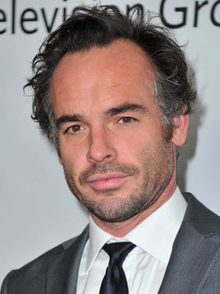 PAUL BLACKTHORNE, a British born actor, director, producer and philanthropist currently stars as Captain Quentin Lance in The CW's hit series "Arrow."  Blackthorne is also well known for his starring role as the inimitable Harry Dresden in "The Dresden Files."
Last Fall, Blackthorne played Dr. Kipper in the Universal Pictures film "Dumb and Dumber To" alongside original cast members, Jim Carrey and Jeff Daniels.
In 2013 Blackthorne's directorial debut "This American Journey" was released.  The documentary film follows Blackthorne as he travels across America in the wake of the 2008 economic crash interviewing Americans about the state of the country and their hopes for its future.
Early in his career Blackthorne starred in the Oscar-nominated, film "Lagaan" as the villainous Captain Russell.  During the film's 2002 Los Angeles Oscar campaign, he landed his first American television role in the John Wells hospital drama, "Presideo Med."  Blackthorne also portrayed Stephen Saunders in season three of "24" and starred in "Lipstick Jungle" opposite Brooke Shields.  Other US television shows include "Deadwood," "ER," "Necessary Roughness," "Monk," "Burn Notice," "CSI," "CSI Miami" and the paranormal thriller "The River."  Film credits include "Four Corners of Suburbia," "Special," and "A Christmas Carol."
Recently Blackthorne successfully raised $60,000 from his social media following with his "Poach Eggs Not Elephants" t-shirt campaign.  All proceeds go to the Lindbergh Foundation's Air Shepherd Initiative, an organization employing the use of drones to help combat illegal poaching of elephants and rhinos in Africa.
Blackthorne is currently producing the documentary "Women With Balls," a film chronicling the 2015 championship-winning season of women's American football team, the D.C. Divas.
Blackthorne spends his free time traveling the world, and is an accomplished photographer. His first exhibition: Fish Heads and Other Things took place in London, raising money for Greenpeace.  This was followed by Bollywood Backpack, raising money for the Gujarat Indian earthquake victims.  His next exhibition:  Delhi To Manhattan was presented at Tibet House, New York.  This chronicled his trek through the Himalayan Tibetan communities of India and his meeting with the Dalai Lama in Dharmsala.  Proceeds from this exhibition went to the Tibetan children's villages of Dharamsala.
Blackthorne was born in Shropshire, England in 1969.   His acting career began aged 12, when he joined the National Youth Music Theater at the Edinburgh festival.  Blackthorne studied the Spiritual Psychology of Acting in London from 1996-98 with acclaimed teacher John Osborne-Hughes.
---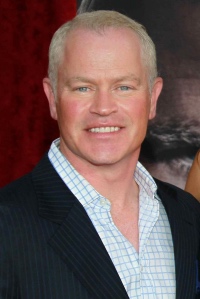 NEAL MCDONOUGH is an American film, television, actor and voice actor, known for his portrayal of Lieutenant Lynn "Buck" Compton in the HBO miniseries Band of Brothers (2001), Deputy District Attorney David McNorris on Boomtown (2002–2003), and Dave Williams on ABC's Desperate Housewives (2008–2009). He also appeared in films such as Walking Tall, RED 2, Traitor, and as Dum Dum Dugan in various Marvel Cinematic Universe films and TV series. He currently appears as Damien Darhk on Arrow.
---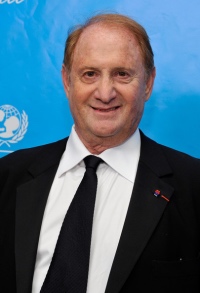 Sample some of the best American films over the past thirty-five years and there's a good chance Mike Medavoy played in a role in the success of many of them. From agent to studio chief to producer, he has been involved with over 300 feature films, of which 17 have been nominated and 7 have won Best Picture Oscars, as well as numerous international film festival awards.
Medavoy began his career at Universal Studios in 1964. He rose from the mailroom to become a casting director. In 1965, he became an agent at General Artist Corporation and then vice president at Creative Management Agency. Joining International Famous Agency as vice president in charge of the motion picture department in 1971, he worked with such prestigious clients as Steven Spielberg, Francis Ford Coppola, Terrence Malick, Hal Ashby, Jane Fonda, Donald Sutherland, Gene Wilder, Jeanne Moreau, and Jean-Louis Trintignant among others.
United Artists brought him in as senior vice president of production in 1974, where he was part of the team responsible for One Flew Over the Cuckoo's Nest, Rocky, and Annie Hall, which won Best Picture Oscars in 1975, 1976, and 1977, respectively. Other notable films included Apocalypse Now, Raging Bull, Network, and Coming Home. In 1978, Medavoy co-founded Orion Pictures where, during his tenure, Platoon, Amadeus, Robocop, Hannah and Her Sisters, Caddyshack, Arthur, The Terminator, Dances With Wolves, and Silence of the Lambs were released. In 1990, after twelve successful years at Orion, Medavoy became chairman of TriStar Pictures, where he oversaw such critically-acclaimed box office hits as Philadelphia, Terminator 2: Judgment Day, Sleepless in Seattle, Cliffhanger, The Fisher King, Legends of the Fall, and Steven Spielberg's Hook.
As chairman and co-founder of Phoenix Pictures, Medavoy has brought to the screen The People vs. Larry Flint, The Mirror Has Two Faces, U-Turn, The Thin Red Line, Basic, Holes, All the King's Men, Zodiac, and Miss Potter, among others. These films have received numerous nominations, won two Golden Bears at the Berlin Film Festival, five Golden Satellite Awards, a cinematography award from the ASC and nominations from the DGA and WGA for Terrance Malick. The Thin Red Line and The People vs. Larry Flint each received Oscar nominations.
Recently, Phoenix Pictures has released Martin Scorsese's Shutter Island, Darren Aronofsky's Black Swan, and Shanghai, starring John Cusack and Gong Li.  Black Swan won numerous awards including the Oscar and Golden Globe for Best Actress (Natalie Portman) as well as the Independent Spirit Award for Best Feature, Best Director, Best Female Lead, and Best Cinematography (Matthew Libatique). Medavoy also recently worked as executive producer on the documentary The Wildest Dreams. Currently, Medavoy and Phoenix Pictures have finished a film entitled The 33, about the 33 miners trapped in a Chilean mine. He is also working on a love story set in Shanghai directed by Barry Levinson, and The Promise, a love story set during World War I, written by Robin Swicord and directed by Terry George, with Bill Horberg also producing.
In 2002, Simon & Schuster published Mr. Medavoy's best-selling book, You're Only As Good As Your Next One – which was subsequently released in paperback in 2003. Mike's new book entitled American Idol After Iraq; Competing for Hearts and Minds in the Global Media Age and published in 2009, reflects on the impact of media on U.S. foreign policy with co-author Nathan Gardels, editor of the National Political Quarterly.
Mike was born in Shanghai, China in 1941 to Russian-Jewish parents and lived in Chile from 1947-1957. He graduated from UCLA in 1963. He is married to Irena Medavoy, a founder of Team Safe-T and a charity executive and fundraiser for Industry Task Force. Mike Medavoy has two sons, Brian and Nicholas, and resides in Beverly Hills, California.