Ep. 26 | Walton Goggins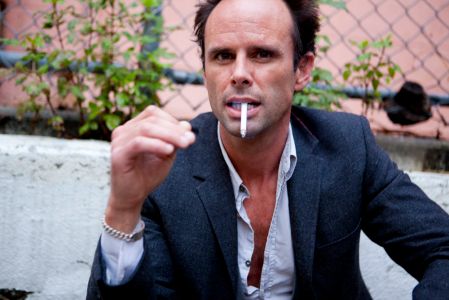 ---
Emmy Nominated Actor Walton Goggins (Justified, Predators, The Apostle...) joins us on The Matthew Aaron Show LIVE this Monday (7/18) evening starting at 8:30pm CT.
Walton will be with us to discuss his recent Emmy nomination for his role on the hit FX series JUSTIFIED, plus much more.
---
Show starts at 8:30pm CT (6:30pm PT / 9:30pm ET). Subscribe for free and download the show on APPLE PODCASTS. You can also listen on the go on your Android/iPhone/iPad device via SPOTIFY.
---
WALTON GOGGINS received an Emmy® nomination and two Broadcast Television Journalists Association (BTJA) nominations for Best Supporting Actor for his role as 'Boyd Crowder' on FX's Peabody Award-winning Drama series Justified.
Goggins reprised his turn as the transgender escort 'Venus Van Dam' (a play on his character Shane's alias of 'Cletus Van Damme' on The Shield) on the highly-rated FX drama series Sons of Anarchy. The role reunites Goggins with series creator Kurt Sutter who was also a writer on The Shield.
Goggins completed production on writer/director William Monahan's Mojave with Garrett Hedlund and Oscar Issacs. He plays 'Jim,' an entertainment lawyer experiencing an existential crisis. He has also completed production on writer/director Ross Clarke's adaptation of Craig Clevenger's novel Dermaphoria. Goggins plays 'Eliah Blanc,' a wealthy New Orleanian whose pastimes include the funding of meth labs.
Goggins has had pivotal roles in films by two of Hollywood's most important auteurs: Quentin Tarantino, in Django Unchained; and Steven Spielberg in Lincoln. He also appeared in such diverse films as G.I. Joe: Rise of the Cobra, Robert Rodriguez's Predators and Machete Kills, Jon Favreau's Cowboys & Aliens, and Rod Lurie's Straw Dogs.
Goggins previously garnered much acclaim for his complex and edgy portrayal of 'Detective Shane Vendrell' on FX's gritty, award-winning drama series The Shield. In 2009, he was nominated for a Television Critics Association (TCA) Award in the category of "Individual Achievement in Drama."
In the last ten years, Goggins has also taken his turn behind the camera. He recently collaborated with writer Adam Fierro ("The Shield") on the pilot "Gringo" which sold to FOX. Goggins' prior collaborations with his partners at Ginny Mule Pictures include winning an Academy Award® for their short film, The Accountant, which he produced and starred in. The team produced, directed and starred in their first feature, Chrystal, starring Billy Bob Thornton, which was accepted into the 2005 Sundance Film Festival's Dramatic Competition. For their third collaboration, Goggins produced and starred in the feature Randy and the Mob, which won the Audience Award for Best Feature at the 2007 Nashville Film Festival.
Goggins and his Ginny Mule partners completed their fourth feature, That Evening Sun, starring Hal Holbrook and Goggins. The film made its world premiere at the South By Southwest (SXSW) Film Festival in Austin, TX in March 2009, where it won the Narrative Feature Audience Award and received the Special Jury Award for "Best Ensemble Cast." The film continued winning awards at over 14 film festivals, culminating with the honor of the "Wyatt Award" from the Southeastern Film Critics Association (SEFCA) and two Independent Spirit Award nominations.
Goggins also takes time to lend a hand to various non-profit organizations and has joined forces with City Hearts, whose focus is bringing the arts to underfunded schools. He has also worked closely with Global Green USA, which is committed to sustainable development and the legislation to support it.
He enjoys traveling the world and has spent time in Vietnam, Cambodia, Thailand, Central America, Morocco and India last spring. Goggins is an avid photographer and has captured many of his journeys on film.