Ep. 42 | Paul Dooley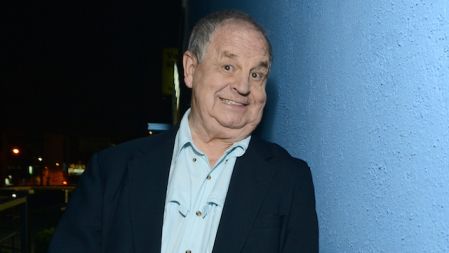 ---
Two-time Emmy Nominated Actor Paul Dooley (Waiting for Guffman, Popeye, Sixteen Candles...) joins us on The Matthew Aaron Show LIVE this Monday (8/22) evening starting at 6pm CT.
Paul will be with us to discuss his lengthy films career as well as guest spots on damn near every television show ever made.
---
This early show starts at 6pm CT (4pm PT / 7pm ET). Subscribe for free and download the show on APPLE PODCASTS. You can also listen on the go on your Android/iPhone/iPad device via SPOTIFY.
---
1977 was a big year for actor PAUL DOOLEY. That's when he was 'discovered,' and after twenty-five years in show business, became an 'overnight success.'
It all happened when legendary film director Robert Altman caught him on stage in the Jules Feiffer comedy Hold Me. Altman, who had achieved fame with Mash and Nashville, signed Dooley on the spot to play Carol Burnett's husband, and the father of the bride, in his upcoming film, A Wedding.
After another starring role in Altman's A Perfect Couple, Paul landed the part that would change his life forever, in the unforgettable coming-of-age classic Breaking Away.
His hilarious portrayal of the long-suffering Dad earned him critical acclaim, and set the stage for another triumph, in the beloved John Hughes comedy, Sixteen Candles. As Molly Ringwald's distracted yet sympathetic father, Dooley endeared himself to an entire generation of young people.
Since then, he's played the father of some of our finest actresses, including Helen Hunt, Toni Collette, Mia Farrow, and Julia Roberts (Runaway Bride). In addition to being Hollywood's favorite Dad, Dooley has become one of the busiest actors working today; creating one memorable character after another in such films as Popeye, with Robin Williams, where he appeared as the hamburger-loving 'Wimpy,' a part Dooley says, that he played with relish. Other films include Paternity, with Burt Reynolds, Kiss Me Goodbye, opposite Sally Field and Jeff Bridges, Happy Texas, with William H. Macy, Insomnia, with Al Pacino, and Waiting For Guffman and A Mighty Wind, both with Christopher Guest.
Dooley has received two Emmy nominations for his work on the small screen: as the out-of-the-closet father on HBO's Dream On and a memorable feisty judge on The Practice. He starred in his own TV sitcom, Coming of Age (CBS), which kicked off a series of recurring roles on other TV shows, including ER, Grace Under Fire, My So-Called Life, Star Trek: Deep Space Nine, Once and Again and Curb Your Enthusiasm.
Despite appearances, it didn't happen overnight. Upon graduation from West Virginia University, Paul headed for New York City in a broken-down 1948 Dodge, with just fifty dollars in his pocket, and nothing to lose. To pay the rent, he worked as a clown, entertaining kids at birthday parties with his magic, juggling, and cartooning skills. Luckily, one of his college chums was none other than Don Knotts. Already a working actor, Knotts convinced the producers of a new children's TV show that Paul would be perfect as a comic cowboy.
Next came the New York premiere of Kurt Weill's masterpiece, The Threepenny Opera, a job procured for him by another friend, John Astin, who was appearing in it, along with Charlotte Rae and Beatrice Arthur.
Dooley's love of comedy led him to develop an act as a stand-up comic, and after several years of playing nightclubs, he landed on The Tonight Show. From there he joined Second City, the famous improvisational troupe, where his fellow actors included: Alan Arkin, Alan Alda…and several other Alans. Improvising became Paul's passion: "I love the freedom of it. I can be doing a Shakespeare parody one minute and playing a five year old kid the next. I make my living doing movies and television, but improve I do for my soul."
While at Second City, he met director Mike Nichols, who was about to being the original Broadway production of The Odd Couple. Dooley was cast as one of the poker playing buddies, and received kudos when he replaced Art Carney as 'Felix,' playing opposite Walter Matthau.
The Second City actors were suddenly in great demand on Madison Avenue, their improvisational wit beginning to change the face of commercials. Teaming up with fellow writer-performers Andrew Duncan and Lynne Lipton, he formed a company: All Over Creation, and over the next ten years, Dooley appeared in over five hundred TV commercials, and nearly a thousand radio spots.
Eventually deciding to use his comedic talents 'for good, instead of evil,' Paul became the co-creator and head writer of The Electric Company, the Emmy award-winning children's program on PBS. Throughout all this, Dooley continued to perform onstage in New York, including his much lauded portrayal of Casey Stengel, in a one-man show about the life of the eccentric baseball coach.
In recent years, Dooley has turned his talents to screenwriting, collaborating with his son, Adam, on a story inspired by his coming-of-age in West Virginia. He's currently putting together the financing to bring this very personal story to the screen. Now at work on a second screenplay, Paul shares his home in Los Angeles, as well as him computer, with his wife, Winnie Holzman, also a writer: "My wife is very talented. She created a wonderful television series, the highly acclaimed, My So-Called Life, and most recently, a Broadway musical about the witches of Oz, called Wicked, with songs by Stephen Schwartz, of Godspell fame."
Dooley is the real-life father of four children: Robin, Adam, Peter, and Savannah; and the proud grandfather of three. "Looks like this father thing is working out," he says with a smile.