Ep. 5 | Thomas Ian Nicholas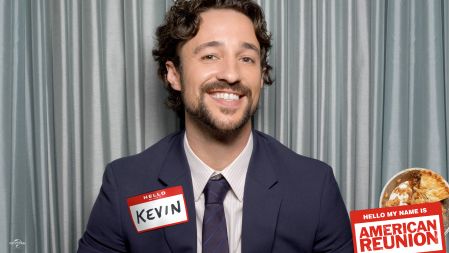 ---
Actor/Musician Thomas Ian Nicholas (American Pie, American Pie 2, American Wedding, Rookie of the Year...) joins us on The Matthew Aaron Show LIVE this Thursday (5/26) evening starting at 8:30pm CT.
Thomas will be with us to discuss his career, his experience shooting ROOKIE OF THE YEAR here in Chicago, his band and the upcoming AMERICAN REUNION.
---
Show starts at 8:30pm CT (6:30pm PT / 9:30pm ET). Subscribe for free and download the show on APPLE PODCASTS. You can also listen on the go on your Android/iPhone/iPad device via SPOTIFY.
---
THOMAS IAN NICHOLAS began his career in acting the way that most kids learn how to swim - by being thrown into the deep end. At the age of 6, he moved to Los Angeles with his mother, an aspiring actress who found her niche as a casting director. A resourceful woman, she would fill roles in any way possible, even by casting herself in as many as four extra roles in one feature when necessary. She eventually ran into a wall when a call came on a Sunday night for the role of an alter boy, and decided to cast Thomas.
That day of work was a revelation for Nicholas, who, despite the fact that he still had his baby teeth, was already feeling a sense of purpose in his life. After the film wrapped, he informed his mother that he wanted to be an actor and was given the name of an agent by the mother of Scott Grimes. Weeks later, after countless hours spent memorizing a lengthy monologue, he marched into the agent's office for his successful interview.
And that's how, within a year of his first acting role, Nicholas found himself on the set of Who's the Boss? (1984), playing a young Tony Danza.
Beginning at age 12, Nicholas embarked on a series of feature films that would shape his career to come, including the now-classic Rookie of the Year (1993), A Kid in King Arthur's Court (1995) and recurring roles on hit TV shows like Party of Five (1994). However, the by-products of acting wouldn't be thrust upon him until he was booked at the age of 17 for the role of "Kevin Myers". The "American Pie" empire had begun. That film made him one of the most recognizable faces of his generation, the boy-next- door whom everyone loved and trusted - and who, as Tara Reid's on-screen boyfriend, became the envy of hormonally challenged teens.
The notoriety was all well and good - no one can complain about being successful in his or her chosen field. However, it wasn't his new high profile that excited Nicholas, it was the recognition from his peers. The ones who noticed that Thomas wasn't just reciting lines, he was exploring his character from the inside out. With the "American Pie" movies as a springboard, Nicholas was able to land other exciting roles, including the Roger Avary-directed The Rules of Attraction (2002), Halloween: Resurrection (2002) and Stealing Sinatra (2003), opposite everyone from Tyra Banks to William H. Macy. He also made his debut as a writer and director in L.A. D.J. (2004), during which he learned a new appreciation for everyone involved behind the camera in a feature film.
A lifelong musician as well, Nicholas released his debut solo album, "Without Warning", in January 2008. Co-written by rock legends Bruce Kulick (KISS), Chris Chaney (Jane's Addiction) and Dan Lavery (Tonic), the album is a radio-friendly collection of pop-rock tunes that toe the line between Switchfoot's melodic rock and John Mayer's pop-crooner sensibilities.
In the past two years alone, Thomas has worked on such hit TV shows such as Grey's Anatomy (2005) and Medium (2005) and upcoming films National Lampoon's Cattle Call (2006), Let the Game Begin (2010), Sherman's Way (2008), The Bridge to Nowhere (2009) and Life Is Hot in Cracktown (2009)