Ep. 50 | Phillip Rhys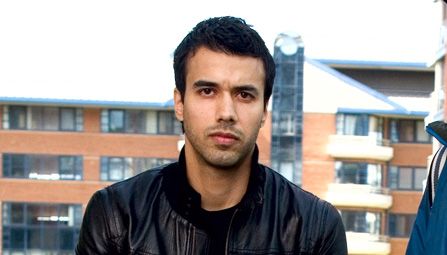 ---
British Actor Phillip Rhys (The Space Between, Nip/Tuck, 24...) joins us on The Matthew Aaron Show LIVE this Tuesday (9/6) evening starting at 8:30pm CT.
Phillip will be with us to discuss his upcoming film THE SPACE BETWEEN, with Oscar-winner Melissa Leo which makes it's World Premier on the USA Channel on September 11th. I've seen the film, and it's quite moving.
---
Show starts at 8:30pm CT (6:30pm PT / 9:30pm ET). Subscribe for free and download the show on APPLE PODCASTS. You can also listen on the go on your Android/iPhone/iPad device via SPOTIFY.
---
PHILLIP RHYS has developed his acting talent with a diverse range of roles across film, television and theatre. On September 11, he will be seen in The Space Between, with Oscar-winner Melissa Leo as part of USA Network's commemoration of the 10th anniversary of the bombing of the World Trade Center Towers. Phillip plays the pivotal role of Maliq Hassan, a widowed father who strives to attain the American dream for his gifted young son. In December, Rhys will be seen in The Adventures of Tintin: The Secret of the Unicorn, directed by Steven Spielberg, which is set for a Christmas release. Additionally, Rhys has recently completed production on Wilde Salome, a film written, directed and starring Al Pacino. The innovative project uses a mixture of documentary, fiction and improvisation to re-interpret Oscar Wilde's most controversial work, Wilde Salome, due for release later this year.
The British born Rhys also starred in the blockbuster drama Survivors, which aired for two seasons on BBC and BBC America. This re-imagining of the classic 1970s series was set in the present day and focused on a group of survivors in the aftermath of a devastating virus. Rhys played Al, a rich self-centered playboy who "suddenly and reluctantly finds himself responsible for an 11-year old boy; a challenge that ultimately requires him to be a much better man than he was in his old life."
American audiences are familiar with his powerful performances in the Golden Globe winning Nip/Tuck as Jude Sawyer, Joely Richardson's love interest. Fans of the Emmy winning series 24 knew Rhys as Reza Naiyeer, "a mysterious, romantic businessman who comes under investigation for suspected links to terrorists." That performance established him as one of Hollywood's most sought after young talents and he was nominated by Screen Actors Guild as part of the ensemble for Outstanding Performance in a Drama Series.
In 2002, Rhys was seen in Flatland, a 22-episode sci-fi action drama series set in 2010, Shanghai. The series, produced by Al Ruddy (Academy Award-winner for The Godfather) was the first series for American television shot entirely in mainland China. Rhys, who co-starred with Dennis Hopper, played Quentin Mitchell, a reformed mob lawyer. Other television credits include Bones, NCIS, Shark, Fertile Ground and Warehouse: 13.
Alongside his extensive television work, Rhys is familiar to independent film audiences for his work in Punks, produced by music mogul Babyface, Woundings with Ray Winstone and Guy Pearce, the Sundance hit Kill the Man, co-starring Luke Wilson, Americanizing Shelly and Fathers and Sons, both directed by Rodrigo Garcia.
Early in his career, Phillip achieved cult status as intergalactic rock star Proto Zoa in the hugely popular Zenon series of films from Disney.
A gifted stage actor, Rhys has won critical praise for his performance in Dario Fo's The Devil With Boobs (LA Weekly Ensemble Award) and in the Los Angeles production of Come Back to the Five and Dime, Jimmy Dean, Jimmy Dean. (Drama-Logue Award) Other notable stage credits include Tennessee Williams' Summer and Smoke and John Patrick Shanley's The Dreamer Examines His Pillow at the Theatre West in Los Angeles.