Ep. 52 | Bill Bailey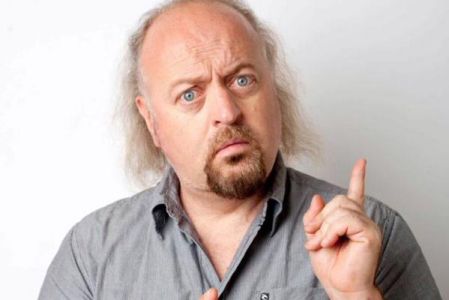 ---
Top UK Comedian Bill Bailey joins us on The Matthew Aaron Show LIVE this Friday (9/9) evening starting at 6pm CT.
Bill will be with us to discuss his critically acclaimed comedy tour BILL BAILEY: DANDELION MIND, which is coming back to the US after nearly a decade with a run of shows in NY as well as a show here in Chicago at the House of Blues on September 18th.
The fun starts at 6pm CT (4pm PT / 7pm ET). Subscribe for free and download the show on APPLE PODCASTS. You can also listen on the go on your Android/iPhone/iPad device via SPOTIFY.
---
BILL BAILEY, a classically trained musician, performed with various bands during his early career, often feeling an urge to slip jokes into the performance. It wasn't until the late eighties that he was inspired by a John Hegley gig to finally fuse his music with jokes and theatricality and become a stand-up comedian.
In 1989 he and Martin Stubbs formed a double act, The Rubber Bishops, and they became well known on the club circuit for their off-the-wall musical comedy. After Stubbs quit the act, Bill went solo and in 1995 took his debut solo stand-up show, Cosmic Jam, to the Edinburgh festival. The show was a huge success, earning Bill a Perrier Award nomination, and the rest as they say, is history.
Bill's reputation on the live stage continued to flourish, his work winning him the British Comedy Award for Best Live Stand Up in 1999. In the Spring of 2002, having successfully toured the UK, he took his show Bewilderness to New York for an eight week sell out run at the WestBeth Theater Center, where The New York Times wrote of him, "Bill is an unalloyed pleasure, a treat for the funny bone, the brain and the ear", and "Bill Bailey is not an ordinary comic…he will lift your spirits". The Village Voice described Bill's humour as "…articulate low key wit" and The Telegraph (UK press) pronounced him "a hobbit with a wicked sense of humour." Bill was invited back to the USA at the end of 2002, where he performed the show for a nine week run at the 47th Street Theater, New York and appeared on The Conan O'Brien Christmas Special.
In 2004 Bill performed his show Part Troll at over fifty venues around the UK, culminating in an extended run at the Wyndhams Theatre in London's West End. He then returned to the USA for a five week run of Part Troll at UCLA to much critical acclaim, appearing twice on Craig Ferguson's chat show.
In 2007 he embarked on a sold-out UK arena tour with his audio-visual, comedic extravaganza, Tinselworm with a sold out run at Wembley Arena. He took the show down under during the summer of 2008, touring Australia and New Zealand, before returning to London in December 2008 for a ten week run of the show at the Gielgud Theatre in the heart of London's theatre district.
Britain then witnessed Bill taking live performances to a new level. Having performed three sell out shows at London's Royal Albert Hall in the autumn of 2008, where it was recorded for television broadcast on BBC2, Bill embarked on a UK tour with his show Bill Bailey's Remarkable Guide to the Orchestra, with the tour climaxing at London's O2 arena. Playing alongside a full orchestra, under the conductorship of Academy Award© winning composer Anne Dudley, Remarkable Guide… was an irreverent tour focusing on the instruments of the orchestra, by way of 70's cop show music, news themes, Bill's own songs and some of Anne's specially written new works. A unique show, The London Guardian described it as "sublime hilarity" and actor / comedian Stephen Fry described the show as "wonderfully enjoyable… like driving a Rolls-Royce off-road."
Bill Bailey's Remarkable Guide to the Orchestra not only won the Best Musical Variety Programme or Series award but also the award for Best Entertainment in the Best of Show in all Festival Genres at Banff 2010.
In 2009 Bill enjoyed a sell out UK summer tour with his show Bill Bailey: Live, and in 2010 Bill toured the highlands and the North of England, playing to a very large open-air crowd at Bristol City's football ground (Ashton Gate Stadium), before journeying to Dublin's O2 Arena to record his next DVD, Dandelion Mind. It was due to popular demand that he then performed the show for an extended run of ten weeks at London's Wyndham's Theatre.
Aside from touring, Bill has performed at the Edinburgh Festival almost every year since his Cosmic Jam debut and has also appeared in plays on the Fringe; firstly in an extremely well-received production of 12 Angry Men, as the restrained Juror 4, then as the slouchy, unkempt Oscar in the equally acclaimed, The Odd Couple. A regular on the festival circuit, in the summer of 2008 Bill played at the first ever Comedy Session at the iconic Eden Project in Cornwall.
Bill's British television portfolio is extensive, most notably connected with the long running music / comedy panel show, Never Mind The Buzzcocks (BBC2) and hit comedy Black Books (C4). Film credits include Saving Grace (dir. Nigel Cole), a cameo appearance in the comedy feature Hot Fuzz (dir. Edgar Wright), the role of Farmer MacReadie in Emma Thompson's Nanny McPhee Returns (dir. Susanna White), Angus the hangman in Burke and Hare (dir. John Landis), and as Bill alongside Bill Nighy and Brooke Shields in Powder Girl (dir. Phil Traill), due for release next month.
Bill has appeared across the BBC radio airwaves. In addition to his original Radio 3 broadcast of Bill Bailey's Remarkable Guide to the Orchestra, recorded for Comic Relief, Bill played the Museum Curator in the comedy panel series Museum of Curiosity on Radio 4 and hosted Earth, Wind, For Hire, a four part series on Radio 2 about the phenomenon of the tribute act. Bill has also composed the theme tunes for a number of his own television and radio shows, most recently for Comic's Choice for Channel 4 - a five part companion series transmitted over consecutive evenings in the run up to the British Comedy Awards last month, which saw Bill interviewing five British A-list comedy stars about their favourite comedy. December 2010 saw his directorial debut with Carpark Babylon - a film written by and starring Bill, which formed part of a collective of new British-originated comedies for Sky 1 HD, called Little Crackers.
In addition to working on a wildlife series for ITV, Bill is currently developing more ideas for film and television with his own production company, Glassbox Productions (formed in November 2007), who are responsible for bringing to the screen Tinselworm, Bill Bailey's Remarkable Guide to the Orchestra and Dandelion Mind.
In June 2011, Bailey returned to the US for a special performance at the Bonnaroo Music Festival and headlined Sonisphere Festival Knebworth in July 2011, UK's premier metal festival. He shared headline billing with Metallica, Slayer, Megadeth, Anthrax and Motorhead and his performance marked the biggest ever outdoor comedy performance at a rock festival in the UK.