Ep. 58 | Jenna Dewan-Tatum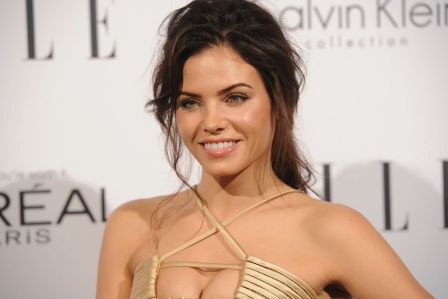 ---
Actress Jenna Dewan-Tatum (The Playboy Club, Take the Lead, Step Up) joins us on The Matthew Aaron Show LIVE this Tuesday (9/27) evening starting at 8:30pm CT.
Jenna will be discussing her career, her talented hubby Channing Tatum, THE PLAYBOY CLUB and what the future holds for her.
Show starts at 8:30pm CT (6:30pm PT / 9:30pm ET). Subscribe for free and download the show on APPLE PODCASTS. You can also listen on the go on your Android/iPhone/iPad device via SPOTIFY.
---
JENNA DEWAN-TATUM is a former model and dancer and was born on December 3, 1980 in Hartford Connecticut. Jenna grew up in Grapevine, Texas and discovered a love for dancing at the age of five. She is a graduate of Grapevine High School and has also attended the University of Southern Califronia, where she was a member of Pi Beta Phi. Jenna was discovered by a dance agent and toured alongside some of the greatest in music entertainment, most notably Janet Jackson and Ricky Martin. She has also appeared in several music videos for artists such as Justin Timberlake, Mandy Moore and Missy Elliott. She has also appeared in several television sitcoms including "Quintuplets" (2004), "The Young and the Restless" (2004) and "Joey" (2004).
Jenna starred in Disney's hit movie 'Step Up' opposite Channing Tatum, which went on to gross over $65 MM domestically and just under $100 MM worldwide. Other screen credits include: Sony's 'The Grudge 2, Lions Gate's 'Tamara' and New Line Cinema's 'Take the Lead', in which she starred opposite Antonio Banderas. She also starred in Keith Sample's 'Love Lies Bleeding' opposite Brian Geraghty, and in 'Six Wives on Henry Lefay', starring opposite Tim Allen, Jenna Elfman, Elisha Cuthbert, Chris Klein, and Paz Vega. Jenna recently wrapped 'The Jerk Theory' opposite Josh Henderson, and she starred opposite Tatum O'Neal in Lifetime's 'Fab Five: The Texas Cheerleader Scandal', which is the network's most watched movie of the year and second most watched program in their history.
The busy actress also recently had a guest starring role on "Melrose Place", starred in the independent film 'America Virgin' with Rob Schneider co-starring, and just wrapped filming on the Tanner Beard directed western 'The Legend of Hell's Gate: An American Conspiracy'. She is currently filming 'Slightly Single in L.A.' and is set to play the title role of 'Magdalena', based on the comic book, with Gale Ann Hurd producing and Luke Goss co-starring.
Along with friends Reid Carolin, Adam Martingano, Brett Rodriguez and husband Channing Tatum, Dewan started a production company called 33andOut Productions. Their first production is a documentary called Earth Made of Glass that follows the Rwandan President Paul Kagame and genocide survivor Jean-Pierre Sagahutu. The film was selected to premiere at the 2010 Tribeca Film Festival.
In March 2011 Dewan was announced to have been cast in the NBC pilot The Playboy Club. In May 2011 NBC picked up the series for a full season order. Dewan portrayed the role of Bunny Janie a very provocative playboy bunny who works at a Playboy Club in Chicago during 1961 and was confirmed to be a series regular on the series. The series premiered on September 19 2011 to a 5.2 million viewers and mixed reviews from critics. Due to low ratings NBC cancelled the series after just three episodes in October 2011.
In September 2010 Dewan was announced to appear in the Romantic Comedy film 10 Years. The film is produced by Husband Channing Tatum. Filming took place in January and February 2011 in New York, California and New Mexico. The film is to be released in September 2012.