Ep. 88 | Sean Astin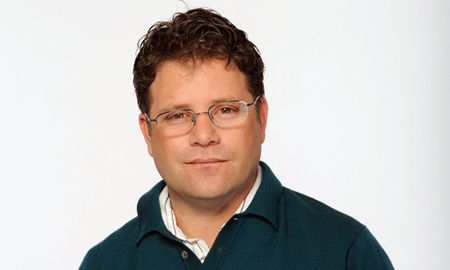 ---
The incredibly talented Sean Astin (The Goonies, Rudy, Lord of the Rings Trilogy...) stops by Detroit Coney Dog LA this Monday (3/5) afternoon as The Matthew Aaron Show broadcasts LIVE starting at 4pm PT.
Sean will be discussing his career, his passion for running, #Run3rd and his training as he prepares to run the LA Marathon for the third time on March 18th.
---
The fun starts at 4pm PT (6pm CT / 7pm ET). Stop by Detroit Coney Dog LA and see us, otherwise subscribe for free and download the show on APPLE PODCASTS. You can also listen on the go on your Android/iPhone/iPad device via SPOTIFY.
---
SEAN ASTIN is one of Hollywood's most respected young actors with a distinctive list of projects and credits.
Sean has just recently signed up for Nickelodeon's re-launch of "Teenage Mutant Ninja Turtles.  He will lend his voice to Raphael in the latest animated incarnation of the hugely successful franchise which premieres in fall 2012.  Rounding out the cast are Jason Biggs as Leonardo, Greg Cipes as Michelangelo, and Rob Paulsen as Donatello.
Currently he is lending his voice to Playhouse Disney's animated delight "Special Agent Oso" Sean stars as 'Oso,' the lovable, bumbling special agent-in-training who enlists viewers at home to help complete his missions.  By following directions given by Oso's helpful sidekick Paw Pilot, viewers learn how to organize and break down everyday tasks by using three easy steps just as Oso does.
This month, he makes his first appearance in a special role on CBS' top-rated drama "NCIS," in a role that has him appearing opposite Jamie Lee Curtis.
For the big screen, he has two highly anticipated films in the can – "Little Boy," a drama set during World War II with Tom Wilkinson and Emily Watson, and "The Boys of Abu Ghraib," an Iraq War film where Astin plays a guard at Guatanamo Bay prison.  He recently received strong reviews for "And They're Off," an independent comedy about thoroughbred horseracing, where he played a failed horse trainer trying desperately to get back into the winner's circle, as well as "Stay Cool" about an older man's homecoming whose cast includes Winona Ryder, Chevy Chase, and Hillary Duff, playing an over-the-top hairdresser.
Adding to his seemingly boundless list of occupations, Sean released his acting memoir entitled "There and Back Again: An Actor's Tale."  The book opened at #1 on the New York Times Best-seller list, putting him on the map as a true literary story-teller as well as the unabashed screen actor audiences fall in love with again and again.  Published by St. Martin's Press and co-written with Joe Layden, the book is a very personal exploration of Astin's prestigious career, from his first big role as Mikey in Warner Bros. classic "The Goonies" through the 18 month arduous challenge of "The Lord of the Rings" trilogy shoot.
Sean had a very successful run as Lynn McGill in Fox's hit series "24."  His character met a heroic demise, sacrificing his own life to save the rest of his unit from a nerve gas attack.  He was most recently seen in the British mini-series "The Color of Magic," opposite Tim Curry.  He also starred in the Steven Spielberg produced mini-series "Into the West," about the white man's expansion into western America.
He was seen in NBC's four-hour miniseries "Hercules," from Hallmark Entertainment.  Sean played Linus, Hercules' music teacher, starring alongside Leelee Sobieski, Timothy Dalton, and British new-comer Paul Tefler in the title role.  Sean also starred alongside his mother, Patty Duke, in the romantic comedy "Bigger Than the Sky."
Astin starred as beloved Sam Gamgee in the Academy Award winning "The Lord of the Rings Trilogy."   The three films have grossed over $3 billion world-wide and have entered the history books of classic cinema.
Even with the busy schedule that his film career demands, Sean makes special time for his passion as a very involved public servant.  He was invited to Washington, D.C. where his mother Patty Duke, presented him with the Creative Coalition's prestigious Spotlight Award for his contributions to their cause.  The Coalition focuses on bridging the gap between Hollywood and Washington, with members meeting White House staffers to raise money for art programs in schools and promote art awareness in children around the country.  He is also an adamant animal rights advocate.  He attended the Genesis Awards in Beverly Hills, presenting an award to the Genesis Guest of Honor, Virginia McKenna, star of "Born Free" and an active animal rights advocate.
Since 1995, he has been the Civilian Aide to the Secretary of the Army.  He is also an active supporter of the AIDS Healthcare Foundation and The Wildlife Waystation.  He recently took an oath of office with the White House Chief of Staff to serve on The President's Council on Service and Civic Participation, working alongside such prominent public figures as Senator Bob Dole and Astronaut John Glenn.  The mission of the council is to recognize and encourage outstanding volunteer service and civic participation by individuals, schools, and organizations thereby encouraging more such activity, especially on the part of America's youth.  Last Fall, Sean partnered with Verizon as the Verizon Literacy Champion benefiting the National Center for Family Literacy.  In this position, he assists the NCFL in speaking out for family literacy issues across the country but closer to home; he greatly appreciates the importance, enormous benefit, and simple joy that come from teaching his own children to read.  Astin is also a promising director.  He directed a short film called "The Long and Short of It" which was featured at the 2003 Sundance Film Festival. This short was shot on the set of "Lord of the Rings" and features cast and crew from the film.
In 1994, he received an Academy Award nomination and won a Jury Prize at the Texas Film Festival for his short film "Kangaroo Court," which he co- produced with his wife Christine.  In addition to this short film, Astin has also directed an episode of the television hit "Angel," and an episode for the HBO anthology "Perversions of Science."
Astin is well known for playing the title role in the critically acclaimed "Rudy" and for his feature debut in "The Goonies."  His other film credits include "The Final Season," "What Love Is," "Marilyn Hotchkiss' Ballroom Dancing and Charm School," which received critical praise at last year's Sundance Film Festival, "Click," "Fifty First Dates," "Bulworth," "Smile," "Courage Under Fire," "Memphis Belle," "Encino Man," "Like Father Like Son," "Where the Day Takes You," "Staying Together," "War of the Roses" and "Safe Passage."  He has also been seen in several independent movies: "Deterrence," "Kimberly," "The Last Producer" and "Boy Meets Girl."
He made his professional debut with his mother Patty Duke in the television After School Special "Please Don't Hit Me Mom." He received Best Actor honors for his performance in "Low Life" at the Fort Lauderdale Film Festival.
Astin has earned a degree in History/American Literature and Culture from UCLA.  He resides in Los Angeles with his wife and their three daughters.