Ep. 92 | Chris Miller & Phil Lord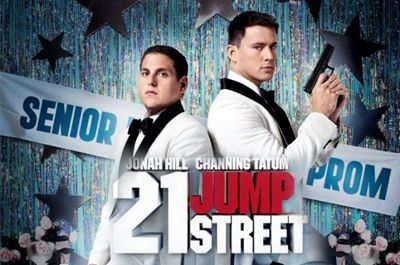 ---
The Award Winning filmmaking duo of Chris Miller & Phil Lord (21 Jump Street, Cloudy with a Chance of Meatballs) sit down with Matt on The Matthew Aaron Show this Friday (3/23) afternoon starting at 4pm PT.
Phil & Chris will be discussing their careers, the success of their most recent film, 21 JUMP STREET, which they both directed and is currently the number 1 film in the Country and if they'll be back for the sequel. They will also discuss upcoming projects.
---
Show starts at 4pm PT (6pm CT / 7pm ET). Subscribe for free and download the show on APPLE PODCASTS. You can also listen on the go on your Android/iPhone/iPad device via SPOTIFY.
---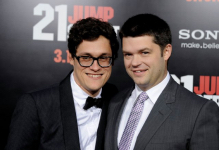 PHIL LORD & CHRIS MILLER most recently directed the comedy 21 Jump Street starring Jonah Hill and Channing Tatum. The movie opened at number one and grossed more than $36 million in its first weekend. The duo will next direct the animated adventure-comedy feature film, Lego: The Piece of Resistance for Warner Bros.
Lord and Miller previously co-wrote and directed the Sony Pictures Animation feature Cloudy With A Chance of Meatballs, which is loosely based on the beloved children's book of the same name. The filmmaker's unique comic sensibilities earned the film a Golden Globe and Critics Choice nomination for Best Animated Feature along with four Annie Award nominations for excellence in animation, including Best Direction and Best Screenplay.
Lord and Miller's collaboration started when they met at Dartmouth College. The two contend it was a comical misunderstanding that landed them a job developing Saturday morning cartoons for the Walt Disney Company, which led to their stint developing primetime animated shows for Touchstone Television. In 2002, they executive produced, wrote, and directed the short-lived but highly talked about animated series Clone High on MTV. The series was critically acclaimed for its well-developed and unique personalities as well as for its witty, fast-paced dialogue, but is probably best known for causing a hunger strike in India and being quickly canceled. Lord voiced the characters of Principal Scudworth, Genghis Khan, and Geldhemoor, the Humkeycorn while Miller voiced the characters of John F. Kennedy and Mr. Butlertron.
Among their television writing credits, Lord and Miller served as co-executive producers on How I Met Your Mother, the Emmy-winning primetime sitcom that began airing on CBS in September of 2005; and executive producers of many failed pilots including Awesometown,featuring the comedy troupe The Lonely Island, and Phil Hendrie featuring the radio genius of the same name. The team also worked as consulting producers on Jake in Progress and Cracking Up, supervising producers on Method & Red and Luis, and staff writers on Zoe, Duncan, Jack & Jane.
Phil Lord graduated cum laude from Dartmouth College with a degree in Art History. His college animated short Man Bites Breakfast won Best Animation at the 1998 New England Film and Video Festival and was also included in several other festivals, including ASIFA East and ASIFA San Francisco.
He is a native of Coconut Grove, Florida and likes bikes.
While still pursuing his education, Chris Miller, received the 1998 New England Film and Video Festival Awards prize for his animated short, Sleazy Goes to France. He also served as editor-in-chief of the Dartmouth College campus humor magazine, The Jack-O-Lantern.
Miller is a native of Lake Stevens, Washington. He left there to attend Dartmouth College, where he found a lifelong friend in Phil Lord while obtaining a degree in government and studio art: three achievements, two of which are useful to his career.